Solomon's Key DS
From GameBrew
Solomon's Key DS
General
Author
Copper
Last Updated
2011/05/08
Type
Arcade
Version
1.2
License
Mixed
Links
Download
Website
Solomon's Keys DS is a Solomon's Keys arcade emulator. It supports both US and Japan versions.
Installation
Note: In order to use this emulator, you will need to obtain MAME rom.
Download and extract file.
DLDI patch .nds file and copy it to the root directory of the card.
Put the MAME's ROM files at the root or in the /MAMERoms/ subdirectory on flashcard.
User guide
Supported sets
| Name | ROM | Parent ROM |
| --- | --- | --- |
| Solomon's Key (US) | solomon | |
| Solomon's Key (Japan) | solomonj | solomon |
Controls
Menu:
Stylus - Select game and difficulty levels
A - Play selected game
B - Zoom images list
L/R - Accelerate, Slow down, Reverse images scrolling
In game:
D-Pad - Play
Start - Insert coin player 1
Select - Insert coin player 2
A - Start game (one player), Magic wand
B - Start game (two players), Fire
R/L - Save/load state
Y - Yes, Confirm save/load state
X - Exit, Cancel save/load state
Screenshots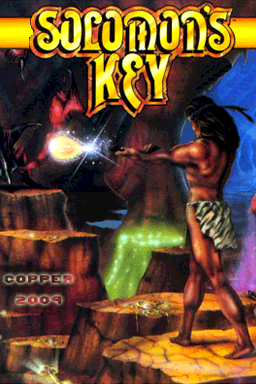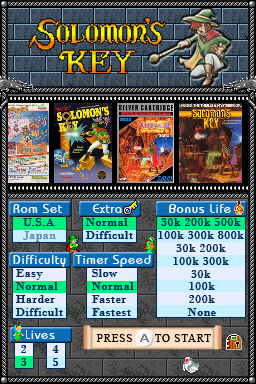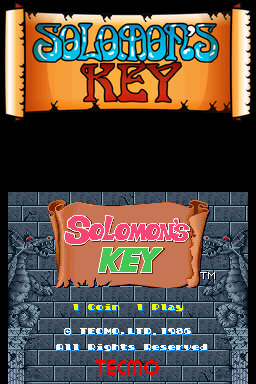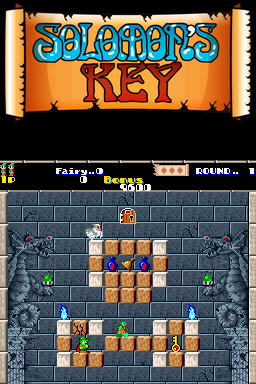 Media
Changelog
V1.2 2011/05/08
Compiled with libnds libnds 1.5.0+ & devkitarm R32.
Compatible with CYCLODS iEvolution B6 in DSi mode.
Emulator settings stored.
V1.1 2009/05/23
Game state save / load.
AY-8910 improved again.
V1.0 2009/05/22
First version.
Compiled with libnds 1.3.3 & devkitarm R26.
File rom is unziped by the emulator.
Hi-scores are saved.
Optimised display.
Menu by Kukulcan.
Credits
MAME Teams.
Reesy for DrZ80 emulator.
Kukulcan for menu design and beta testing.
External links