DSInvaders
From GameBrew
DS Invaders
General
Author
Copper
Last Updated
2014/01/31
Type
Arcade
Version
1.5
License
Mixed
Links
Download
Website
DSInvaders is a Space Invaders Arcade emulator.
Installation
Note: In order to use this emulator, you will need to obtain MAME rom invaders.zip.
Download and extract file.
DLDI patch it and copy it to the root directory of the card.
Put the invaders.zip file at the root on flashcard.
Controls
A - Insert coin
Start - Start game (one player)
Select - Start game (two players)
D-Pad - Move the cannon
B - Fire
X+Left - Life-- (+ emulator reset)
X+Right - Life++ (+ emulator reset)
Y - Toggle anti alias on zoomed screen view
L/R - Screen swapping
Touch screen - Move the cannon and fire
Screenshots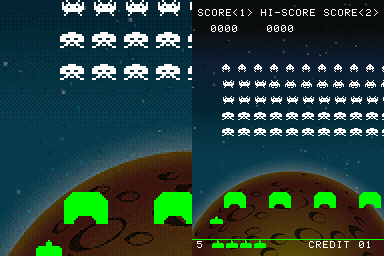 Media
Changelog
V1.5 2014.01/31
Compiled with libnds 1.5.7+ and devkitarm R41.
Z80 replaced by an Intel 8080.
V1.4 2011/05/08
Compiled with libnds libnds 1.5.0+ & devkitarm R32.
Compatible with CYCLODS iEvolution B6 in DSi mode.
V1.3.1 2008/02/28
Compiled with libnds 1.3.2 (but with devkitarm R24).
Hi-score is saved in a file called invaders.sav.
Sound "extended play" added.
V1.3 2008/12/28
New sound written with libnds (without maxmod) to play a looped Ufo sound.
Anti alias on zoomed view.
Screen swap.
New zoomed view touch screen play.
New life number setting.
V1.2 2008/12/23
New display routine (extended tiles background + extended palette for colors).
New screen background (by zeblackos).
V1.1 2008/12/22
Touch screen game improved.
Touch screen available for player 2.
Sound corrected (thanks mame).
SELECT key added in infos screen.
V1.0 2008/12/20
First version that use DLDI.
Compiled with libnds 1.3.1 and use maxmod for sound.
File rom is unziped by the emulator.
New touch screen play.
Zoomed view on the sub screen in game.
Infos are printed on the sub screen in menu.
Credits
zeblackos for the screen background.
Risike & Alekmaul.
External links