AmeDS
From GameBrew
AMEDS
General
Author
Alekmaul
Last Updated
2010/04/25
Type
Computer
Version
4.0
License
Mixed
Links
Download
Website
AmEDS is an Amstrad CPC 6128 Computer emulator.
Installation
Note: In order to use this emulator, you need to also obtain compatible disk/images in DSK or SNA format.
Download and extract file.
DLDI patch the .nds file.
Unzip AmeDS.nds from the AMEDS.zip archive in a directory of flash/(micro)SD/MMC card.
Put the dsk/sna file where you want on your flashcard.
For compatibles disk, some free sna files from Vortex Software are provided with the package.
User guide
When the emulator starts, click on the disks to choose a file. Use Up/Down to select a file, then press A to load it.
The AUTOLOAD option allows you to run the DSK file automatically (if it's possible).
Controls
Stylus - Keyboard
D-pad - Joystick
A - Fire button #1
B - Fire Button #2
X - Shift key
Y - Control key
X+D-Pad - Move screen when you are in normal resolution
R - Shift key
L - Control key
Start - Enter key
Select - Space key
Screenshots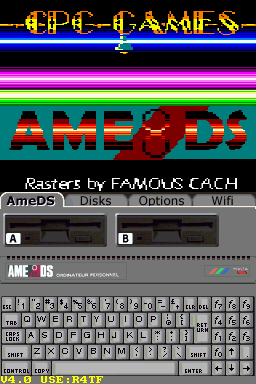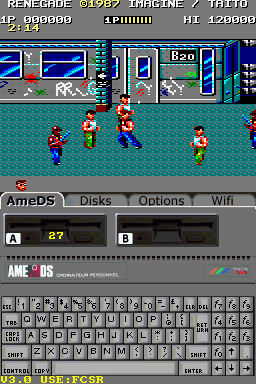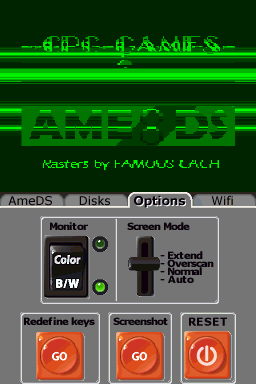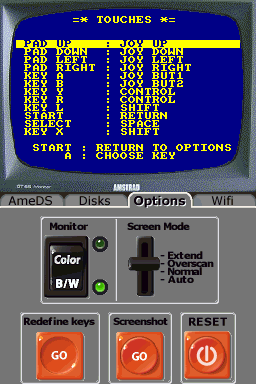 Changelog
V4.0 2010/04/25
Change to devkit r30 and libnds 1.4.3.
Change sound engine.
Change url to download play games to http://www.cpc-power.com/.
Compress menu sounds with ADPCM .
Change intro screens (and compress them).
Load wifi list only if list is different.
V3.0 2008/11/26
Fix a stupid bug about key redefinition (the new one couldn't be assign).
New interface with tab (thanks zeblackos).
Add alpha lerp for a better screen rendering.
Add list management for download play (a lots of games are now available).
Change EI_delay for each instruction (slower but more compatible, Tetris can be play again now).
A little faster (screen rendering optimization).
DS Sleep mode management (a closed lid pauses AmeDS execution).
Improve keyboard management with stylus.
V2.1 2008/04/07
Play with WIFI. Download the game through the web and play it using the menu "PLAY GAME FROM THE WEB".
Compilation with devkitarm r21
Screenshot saves are now in "no resize" mode, so we have the complete CPC screen.
Multi save for snapshots and screenshots (the name ends between 000 and 999).
Add keys \ ] [ : ; * ? > < in the keys configuration menu.
Sound optimization in AY 8912 (but still have pb with game EXIT for example).
Fix screen blink when scrolling with X.
Accelerate Z80 management (thanks zx81 for the case / goto tip).
We have now 1024 files in the file list.
V2.0 2007/10/10
Even more fast now.
New design.
Display optimization (direct memory access).
Optimization/Hack of CRTC code (so it is faster ... thanks redbug for your help).
Better Overscan mode management.
Add automatic resize mode.
Rewrite of dsk / sna files choice .
Rewrite of keyboard management (with correct management of SHIFT and CONTROL).
Add DSK autostart (activate with OPTIONS menu).
New AY-8912 sound management.
The sending of a DSK / SNA file compatibility with WIFI on portabledev web site. You can see it here.
Tracks with no length management (Nexor [original]works now).
V1.1 2005/12/30
A little bit faster.
Add sound.
Add scrolling in file choice when the touch is still pressed.
Add an option menu (replace icons from the bottom of the screen).
Ability to change each DS key with the Amtrad keyboard.
Better screen resize.
Save in SNA format (in OPTIONS menu).
V1.0 2005/12/24
Initial release too slow.
Credits
Thanks zx81 for the z80 tip.
Thanks to Kukulcan for his website access and for help to debug.
Thanks to Ludovic Delplanque and his emulator PC-CPC.
Huge thanks to the authors of Caprice32, without it this 1.0 version would probably never have been made.
Huge thanks to redbug for help on forum and for CrocoDS, the best amstrad emulator for DS.
Very Huge thanks to members of forum for the help and the support.
Special thanks to NiNxPe for the DS cover and keybard design.
External links