DSFrotz
From GameBrew
DSFrotz
General
Author
papafuji
Last Updated
2008/08/15
Type
Other Emulators
Version
2.0 Beta-1
License
Mixed
Links
[2.0 alpha and beta-1 Download]
Website
DS-Frotz is the port of Stefan Jokisch and David Griffith's Frotz, based on the GBA version from Jonas Minnberg.
The homebrew comes with a number of interactive fiction games/stories and the source code is included in the package.
Features
A multi-game main menu.
A multi-interface inputs: grafiti or keyboard (no voice recogition).
Text-completion functionnality.
Includes a lot of games.
Add and play your own games.
Installation
Download and extract file.
DLDI patch .nds file and copy all files to the root directory of the card.
It can play the majority of Inform files in z3, z5 or z8 format (up to V6 Inform format, with some bugs included).
User guide
All games have the same interface (stories are displayed on the top screen and text inputs on the bottom sreen), and can be played exactly the same way.
Input text
There are two ways to type words with the stylus of your Nintendo DS.

By default, you can directly draw the letters on the screen, according to the PA-Grafiti alphabet.
Second way is to use the mini keyboard or the numerical keyboard.
Icons
To avoid typing always the same things, the most used orders can be called via the icons.
Each icon has two or three states, for example:

The hand means GET, DROP and GIVE.
The N button means GO NORTH and GO UP.

Just pick an icon twice or more to select the good order.
Vocabulary
A sentence in these games is defined by a verb + a noun, such as OPEN DOOR, GO NORTH, etc.
Some sentences can have only one word, e.g. INVENTORY (to see what you're carrying) or SCORE (to see your score).
Each game has its own vocabulary, but a lot a verbs are common to all the games.
In many cases, you don't have to write the entire word, only the first letters are necessary. For example:

G HELM is esquivalent to GET HELMET.
CLIM DRAWB is equivalent to CLIMB DRAWBRIDGE.
List of the most common words
GO
ENTER
CLIMB
SWIM
HELP
LOOK
EXAMINE
GET
DROP
THROW
​CAST
WEAR
REMOVE
OPEN
CLOSE
LOCK
UNLOCK
BREAK
CUT
CHOP
SAY
KILL
Shortcuts
Actions
N S E W
GO NORTH, GO SOUTH, GO EAST and GO WEST.
NE NW SE SW
NORTH-EAST, NORTH-WEST, etc (Level9 and Frotz games).
H
HELP.
I
INVENTORY.
X
EXAMINE (in classic games), EXITS (in Level 9 games).
G
GET (or AGAIN for Inform/Frotz games).
L
LOOK.
SV
SAVE.
LD
LOAD.
R
RESTORE.
Word completion
Draw a slash / in the middle of the word, the game engine will try to complete it with the latest words that have been printed on the screen.
You can draw this slash until you find the good word to continue. Example:
 You are in the kitchen, you see a can wooden bench, 
 a bottle of wine, and a cute babe... 

 >CLIMB ON B - draw a slash here completes to:
 >CLIMB ON BABE - draw another slash here completes to:
 >CLIMB ON BOTTLE - draw another slash here completes to:
 >CLIMB ON BENCH - that's fine.

Controls
X - Swap between mini-keyboard and letter-drawing modes
A - Valid, OK (v1.2+ games only)
B - Abort, Clear input text (v1.2+ games only)
L/R - Change the image size (Level9 games only)
Start - Pause, Exit the game
Select - Save a game to the SRAM
Screenshots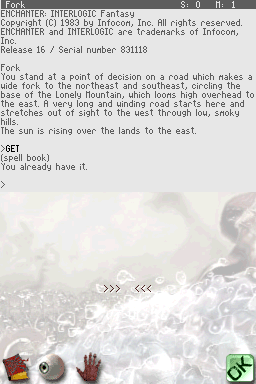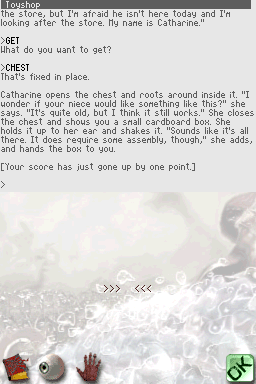 Known issues
User fonts not yet implemented.
Inline keywords userlist not yet implemented.
On DS-Frotz games, you can only complete the last noun (but in Scott Adams or Brian Howarth adventures, you can complete the first verb too).
Changelog
DSFrotz2.0_beta1_20080815
New features:
New double-screen display mode.
User backgrounds and icons available.
Debugged azerty/qwerty keyboards.
Border_zone, trinity and freefall working fine.
User-modifiable keywords and abbreviations.
A lot of bugs exterminated.
DSFrotz2.0_alpha_20080724
New features:
Game files on cart, with user folder organisation.
Per folder & per game ini files.
Multi fonts and accentuated fonts.
Predefined user-modifiable keywords and abbreviations.
New azerty/qwerty keyboards.
A lot of bugs exterminated.
Credits
Mollusk for PAlib.
Chishm/Drunkencoders for DLDI tools.
Flap, Derek, Julian & Mauro for their support.
GBA-Frotz version by Jonas Minnberg.
Actual Frotz implementation by David Griffith (2002).
Original Frotz interpreter by Stefan Jokisch (1995).
BAF's guide to IF archive.
External links