DSpec
From GameBrew
DSpec
General
Author
Eighttwelve
Last Updated
2005/09/02
Type
Computer
Version
Final
License
Mixed
Links
[Preview Download]
Website
DSpec is a Zx Spectrum emulator for the Nintendo DS. Preview version is available for public while Donation is required for full version.
Features
1:1 pixel resolution means no clipped screens or resizing.
Full sound emulation.
Spectrum keyboard accessed via the bottom touch screen.
Touch screen game selection with directory support.
Supports .sna and .z80 files.
Kempston joystick emulation via D-Pad and face buttons.
DS d-pad and buttons can be re-configured per game and saved to memory card.
User guide
DSPEC.INI
Drop DSPEC.INI into the root of your filesystem, along with DSPEC.
You can edit this file to change the default control scheme and files paths.
Redefine controls within DSPEC
Go into the settings and use the icon that looks like arrow keys.
When editing controls withing DSPEC you can optionally save them.
Doing so will create a file that pairs with the currently loaded ROM.
If for example you have chuckie.sna loaded, and save the control scheme, the control file chuckie.ini will be created.
When loading a ROM, if the default control file exists, it will be loaded and used.
Rom specific control files
These can be created within DSPEC or manually created and dropped into the appropriate configurfation folder.
They are only text files, so can be edited or viewed from notepad or similar.
Loading ROMs
The load icon has been removed.
Double tap the list entry to load it.
Screenshots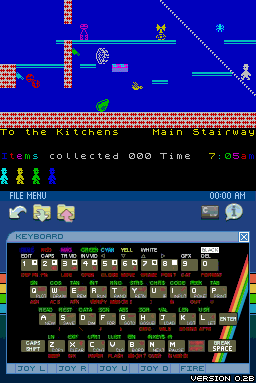 Changelog
Public Beta 0.2b Released
Fixed for M3, probably MP, and Supercard 1.70 also.
New theme.
Couple of other fixes.
Public Beta 0.2a Released
Fixed Audio sync.
Fixed Audio stereo output & volume.
Too tired. You spot the changes.
Private Beta 0.2
Fixed graphical corruption in Cobra, Gutz, and many others.
Fixed problem with long filenames corrupting the file browser display.
Fixed problem whereby START & SELECT are transposed when saving game INI files.
Added interface II option to control configuration panel.
Fixed problem with sounds panning through single speaker only.
Added preliminary save states (uncompressed Z80's)
Added console/log output, although very little is logged currently.
Private Beta 0.1.1
More improvements to the GUI. Dialog buttons work better.
Z80 support. Not sure this is quite right. Lots of stuff does work though.
Private Beta 0.1
Fixed the Supercard SD loader (many thanks to Peacesquid for helping to test).
Found a silly bug in the SNA loader. This should fix a few games. Starstrike 3D now works.
Added external configuration file (DSPEC.INI).
ROM specific control files are now supported.
Controls can now be redefined within DSpec, and saved.
File sorting fixed.
Enhanced GUI. Icon layout improved. New button type added. Clock added.
File type filtering added.
Directories supported. Directory traversal now possible.
Various fixes to emulation routines (Automania seems to work now).
Partial support for Z80 snapshots (removed temporarily).
Spectrum reset (removed temporarily).
DSpec has file writing routines now. They may not work correctly on all media cards.
External links