ThomDS
From GameBrew
ThomDS
General
Author
Alekmaul
Last Updated
2010/03/21
Type
Computer
Version
3.0
License
Mixed
Links
Download
Website
ThomDS is a Thomson MO5 Computer emulator. This emulator is not based on the sources of an existing Thomson emulator but relied on the information contained in Mess, free.fr DCMO5 by Daniel Coulom and emul5 by Edouard Forler.
Features
Most things expected from an emulator.
Installation
Note: To use this emulator, you will need to prepare compatible K5/K7/ROM files.
Download and extract file.
DLDI patch the .nds file and copy it the directory you want on flashcard/SD/MMC card.
Put k7/k5 and rom files in the directory of your choice.
User guide
Operation
When the emulator starts, click on the tape to choose a file. Use Up/Down to select a file, then use A to load it. ROM files are automatically executed.
To insert a file into the cassette/cartridge player, just click on the player and choose the file.
Loading a program
For Basic program, type RUN "" (then Enter).
For Basic and binary program (games, commercial software), type LOADM "" ,, R (then Enter).
Or you can type LOADM.
Compatibility list
You will find below the list of K7 and ROM files which may or may not be compatible with ThomDS.
Play = Playable, Spd = Speed, Gfx = Graphics, Snd = Sound
Thomson MO5 .K7 file compatibility list
K7 Name
CRC
ThomDS
Submit By
Play
Spd
Gfx
Snd
Arkanoid (1987) (FIL) .k7
18C86289
3.0
Lichoheadj
No
okay
okay
okay
Arkanoid (1987) (FIL) .k7
18C86289
3.0
Omegas16
No
okay
okay
okay
Avenger (1986) (FIL) .k7
4187026A
2.0
Jason_Raub
No
okay
okay
okay
Diamond Mine, La (198x) (Infogrames) [b1] .k7
F4C549B2
3.0
Valentine
No
okay
okay
okay
Cassebrique (1986) (Christophe Vaillant) (PD) .k7
707A1FDC
3.0
Valentine
Yes
okay
okay
None
the-human-body-mo5.k7
85FD4D3C
2.0
Alekmaul
Yes
okay
okay
okay
YETI-MO5.K7
9646972A
3.0
alekmaul
Yes
okay
okay
okay
Thomson MO5 .ROM file compatibility list
K7 Name
CRC
ThomDS
Submit By
Play
Spd
Gfx
Snd
ATARIOSB.ROM
3E28A1FE
2.0
niels
Yes
okay
okay
okay
the-house-of-amedee-mo5.rom
EC111E92
2.0
Alekmaul
Yes
okay
okay
okay
Controls
Stylus - Keyboard
D-Pad - Direction for keyboard
A - 0 Key
B - L Key
X - Shift Key
Y - Basic Key
X+D-Pad - Move screen (Extend mode)
R/L - Stylus mode
Start - Enter Key
Select - Space Key
Screenshots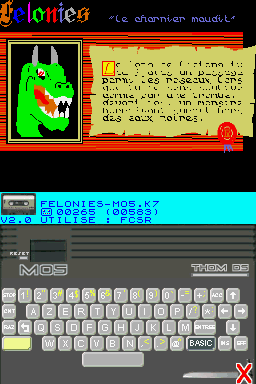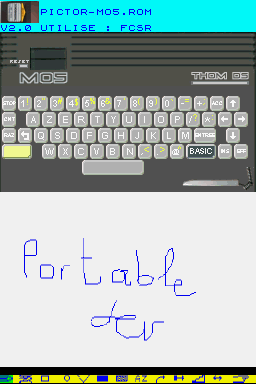 Changelog
V3.0 2010/03/21
Use of last devkitarm r18 and libnds 1.4.3.
Add English menu.
Add option to go back to DS menu (if possible, otherwise DS is power off).
Modification of sound management.
V2.0 2009/01/04
Graphic mode with alpha lerp to improve display.
Update intro like my others emulators.
Now use standard FAT and DLDI library.
File sorting and upgrade list to 512 files.
Add sending of game compatibility with wifi.
Improve buzzer emulation (try Vox synthesis software to see that).
Improve speed display (direct access to vram and assembly use).
THOMDS directory is no longer mandatory, files can be where you want.
Add MO5 save state (load/save state) with 999 files per tape.
Add tape cursor move.
Stylus mode with R & L.
Improve stylus management on screen.
DS Sleep mode management (a closed lid pauses thomDS running).
V1.1 2007/01/25
Add RESET with stylus on the real RESET key on MO5 (near the MO5 logo).
Speed x2.
Add joystick management (mapped on the DS pad and A button).
Keys saved with games with option menu (.KBD file), loaded automaticaly when the game is loaded.
V1.0 2007/01/18
Credits
Mess, dcmo5 and emul5 authors.
Members of forum for the help and the support.
External links