CrocoDS
From GameBrew - a wiki dedicated to Video Game Homebrew.
CrocoDS
General
Author(s)
Redbug
Type
Emulator
Version
2.0
Licence
Mixed
Links
Download
Website

CrocoDS is a Amstrad emulator on Nintendo DS. It's based on the great emulator PC-CPC from Ludovic Deplanque (demoniak). it should run on any Nintendo DS with a decent linker that is supported by DLDI.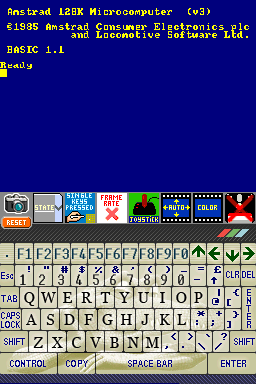 Installation
To run homebrews on your Nintendo DS, you need to buy a special DS cartridge (linker) to plug into your Nintendo DS game port. This cartridge is like a game cartridge except you insert a Flash card into it.
First, connect the Flash card to your computer (using a Flash card reader)
Patch the .nds file with dldi if needed (http://chishm.drunkencoders.com/DLDI/)
Copy the homebrew file (the .nds file) from the computer to the flash card.
Copy the .dsk (or .sna) file in the root (or in the /ROMS/CPC directory) of your flash card).
Then, get the Flash card and insert it into the special cartridge (linker).
Finally, plug this cartridge into your DS. That's all.
Switch on your DS and you will see a menu with the name of the homebrew file you've just transfered. Select it to run.
Controls
D-Pad or A/B - Joystick, keypad or keyboard emulation
Stylus - manipulate the keyboard Amstrad
Select - display the setup menu
To load a ROM, just press 'Select' to display the menu. Select the game and play.
Changelog
Version 2.0 (11-9-2007)
Save-states (load, read & erase).
New design. (thanks to kukulcan)
Autostart.
Beter support of the copy, shift, control and caps-lock keys.
Single / multi-keys pressed for activate cheat code.
Minor update in the Z80 emulation.
Bugfixes in the timing of the sound module. (thanks to Alekmaul)
All options are now available via icons.
Screen capture (you need sna2png to convert the snapshot to bitmap)
Speed limitator. (crocods is sometimes too fast)
Version 1.0 (1-12-2007)
New keyboard 3/4.
Re-size of the automatic screen.
More interlacing at the time posting of the screen.
The scrolling of the screen (Via the key R) now also functions into horizontal.
The sound is of better quality.
Support of ROMs zippées functional.
Support of the DLDI in order to be compatible with all old linkers and to come.
the change of pallet is again possible for each line. (possible modification via the menu hack)
Version 0.5a (12-25-2006)
Full mapping of keyboard.
New menu.
Load disk with or without autoload.
Realtime for most of the games.
Overscan screen display.
Press R to scroll up / down the screen.
Stereo sound. (pretty crappy)
Roms can be stored in the root, ROMS or AMES directory.
Zip roms suported.
0.4a (12-9-2006)
Certain games did not function any more of with a bad interpretation of opcode HALT. It is now corrected.
Addition of a menu allowing the posting of the framerate.
Version 0.3a (2006)
Large increase in speed (real time on much of plays)
New module CRT which brings the support of the overscan (Thank you Demoniak)
Beginning of a design for the keyboard
Finely of configuration (green monitor color)
The sound functions (but there remains a problem of envelope of volume)
Credits
RedBug (code) [email protected]
http://deadketchup.kyuran.be and http://world.kyuran.be
Kukulcan (gfx & betatester) [email protected]
http://www.phenixinformatique.com/CPCGAMES/ and http://kukulcan.palib.info/
Demoniak (original source) [email protected]