DSoric
From GameBrew
DSoric
General
Author
Alekmaul
Last Updated
2008/01/19
Type
Computer
Version
1.0
License
Mixed
Links
Download
Website
DSoric is an Oric 1/Atmos computer emulator.
Features
Most things expected from an emulator.
Installation
Note: In order to use this emulator, you need to obtain compatible tape files in TAP format.
Download and extract file.
DLDI .nds file and copy it to the root directory of the card.
Put your .tap files where you want. Some games are provided with the package DSOric, they are from Eric Chahi, the creator of Another World.
User guide
Loading TAP files
When the emulator starts, click on the tape to choose a file. Use Up/Down to select a file and A to load it.
To load a file, click on the tape, choose a TAP file. Type CLOAD " and press the ENTER key on the Oric keyboard.
Saves with the CSAVE command are going in the K7SAVE.TAP file.
You can click on the DSoric logo to have the options menu.
Able to do a reset of the emulator.
Switch between the Oric 1/Oric atmos (reset the emulator).
Rewind the tape to the desired position (a tape file must be selected).
Save/load the emulator state.
Save the keyboard configuration (a tape file must be selected).
Send a report to portabledev regarding the emulation (a tape file must be selected).
Controls
Stylus - Keyboard
D-Pad - Direction keys
A - A key
B - B key
X/R - Ctrl key
Y/L - Shift key
X+Up/Down - Screen move when the resolution is normal
Start - Enter key
Select - Space key
Screenshots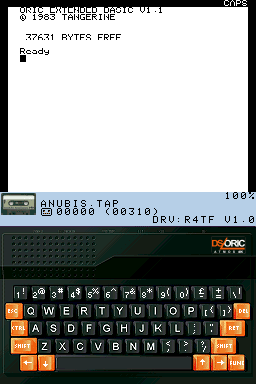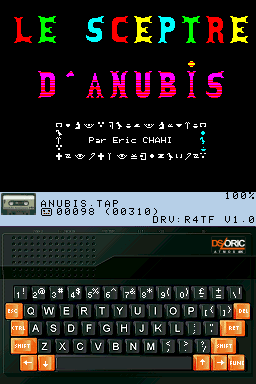 Known issues
Low sound quality, speed and missing microdisk management.
Changelog
V1.0 2008/01/19
Credits
Zeblackos for the keyboards design and the DSoric logo.
Members of forum for the help and the support.
External links