MarcaDS
From GameBrew
MarcaDS
General
Author
Alekmaul
Last Updated
2007/07/30
Type
Arcade
Version
4.0e
License
Mixed
Links
Download
Website
MarcaDS is an arcade emulator. It use the same principle than Mame but it's not using its code. It emulates 75 game machines, including Amidars, Arkanoid, Cosmic Avenger, Dig Dug, Donkey Kong, Frogger, Lady Bug, Phoenix, Pooyan, Scramble, Super Cobra, etc.
MarcaDS Arcade Emulator v2.5 was participated in the NEO Spring Coding Competition 2006 and ranked 2nd.
Features
Ability to play arcade games on the Nintendo DS.
Limited range of compatible games.
Slightly lagged sound.
Installation
Note: In order to use this emulator, you will need to obtain MAME rom (Mame 0.116 compatible romset, with no compression ZIP format). Also you cannot have more than 255 ROMS at the same time.
Download and extract file.
DLDI patch it and copy it to the root directory of the card.
Create a folder called mame in the root of your card.
Copy the .zip (ensure they use no compression) files containing the mame files to your mame folder.
User guide
FAQ
Q. Game does not run?
Ensure the game is in the below Compatibility List. Games other than those will not show up in the menu and will not run. Also ensure the .zip file does not use compression (Set WinRAR to Store, WinZip to No Compression).
Q. No sound in game?
Ensure the Compatibility List says there is sound in that title. If not, game will still work, just without the sound.
Q. Where is the Compatibility List? All I see is foreign words.
Jeux émulés is the Compatibility List, which means Emulated Games in French.
Q. EFS failed.
You cannot rename MarcaDS.nds. And you must place it in root.
Controls
Menu:
Up/Down - Select game
A - Launch selected game
In game (player 1 and 2):
D-Pad/DS Motion - Joystick
Select- Insert coins
A - Fire (if the game need it, like Pengo)
B - Fire (if the game need it, like Ping Pong)
R - Fire , only for Arkanoid (easier with stylus)
Start - Start game
R/L - Pause game, Return to MarcaDS menu
Screenshots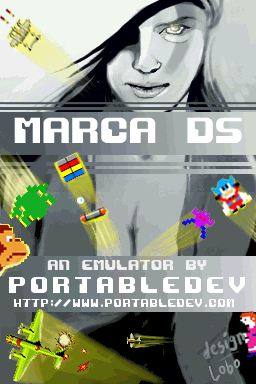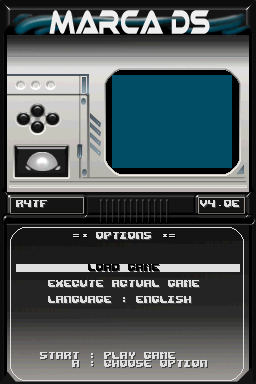 Compatibility
Tested on:
G6DS Real (firmware 2.2) (using marcads.nds file, without DLDI patching)
DS-X with (firmware 1.1.2) (using marcads.nds file, without DLDI patching)
M3 DS Simply (firmware 1.06) (using marcads.nds file, without DLDI patching)
NinjaDS (firmware 1.05) (using marcads.nds file, without DLDI patching)
CycloDS Evolution (firmware 1.12) (using marcads.nds file, without DLDI patching)
G6 Lite (firmware 4.6c and M3DSS as passkey) (using marcads.nds file, dldi driver v0.19 patching g6fl.dldi)
MK5 (firmware 2.45) (using marcads.nds file, without DLDI patching)

Known issues
Partial sound and no auto scrolling.
If your zip don't work rezip it with a other zip software.
Changelog
V4.0E 2007/07/30 BUG FIXED?
You must now put marcaDS.nds in the root directory of your flashcard.
Recompile with last libnds.
V4.0 2007/07/13
New design (thanks again Lobo) and new logo (thanks to you too DayDream).
Add SN76496 and AY-8910 sound emulation, lots of games have now sound.
Solomon's key do not have any more background pb.
Add Video Hustler, The Billiards, DigDug (2 sets), Hexa, Bank Panic.
Galaga (and clones) is playables.
Pinball Action is now playable.
The background pb in Phoenix (and clones) is fixed.
Also for 1942 background pb.
Add compressed ZIP support.
Add CRC checking to avoid compatibility problems.
Add Hish score management.
SELECT to add coins (A becomes the main shoot button).
No more "Player 2" mode.
No more clones (less games but only the originals).
Mario becomes Masao to have the sound.
Ms Pacman becomes Ms Pacman (bootleg) and the zip file mspacmab.zip.
Piranha becomes Piranha (hack) and the zip file piranhah.zip.
Jr Pacman becomes playable.
Fire pb in Arkanoid fixed.
Using now EFSLIB, thanks Noda.
V3.0 2006/12/02
Sorry, no high score saving in this version (have too much work on another emulator to implement it now).
The engine was completly remade so all the games engines too.
Scramble, Galaxian, Solomon's Key, Penguin Kun was are playables.
Add too much others games (more than 100) to talk about them.
New graphic engine for sprites and tiles (direct access to memory).
Sound, at least, in pacman and clones.
V2.6 2006/03/23
Add again GBFS management for Flashcards users (G6, MK1, and so on).
Add 16 bits bitmap mode for some games (like Arkanoid).
Arkanoid is playable, with stylus too.
Add 1942, Scramble, Green Beret, Solomon's Key, Penguin Kun Wars, not playables for now.
V2.5 2006/03/20
NeoFlash MK2/MK3 Special Spring Compo Edition.
Add LadyBug Game.
V2.0 2005/12/26
Completly rewrote game engine with mode 0 and sprites.
Add lots of games (see the gamelist.txt file).
V1.0 2005/09/26
Credits
Kasimir2007, Noda, nyuk1998 and Pitt, Lobo, Neil Bradley, Marat Fayzullin, MAME team, Brian Lewis, Mame and Vantage, Chism, Scarta, L_Lamas, Phaeton,Panardi, Mollusk.
External links