Magnavox Odyssey DS
From GameBrew
Magnavox Odyssey DS
General
Author
Bobbyloujo
Last Updated
2010/06/25
Type
Console
Version
2010
License
Mixed
Links
Download
Website
Magnavox Odyssey DS is a port of the first ever home video game system released in 1972, Odyssey. It includes different chips which each chip contains a minigame.
User guide
The following games are available:
Chip 1 - No overlay.
Chip 2 - Simon Says, Skiing.
Chip 3 - Football, Hockey, Tennis, Analogic.
Chip 4 - Haunted House.
Rules of each games can be found here.
Controls
R/L - Change between which player to control
A - Reset the ball
Screenshots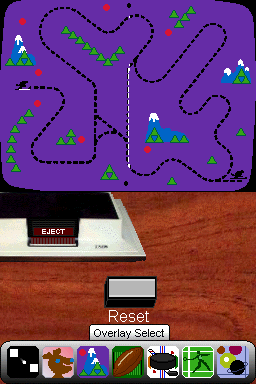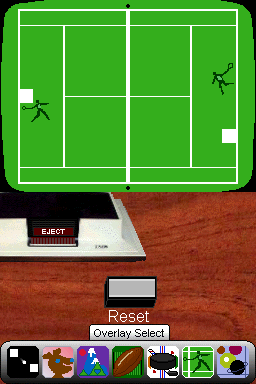 Media
1972 Magnavox Odyssey promotional film (yorkie2k)

Changelog
2010/06/25
Started programming chip 4.
Changed some stuff.
The sprites are smaller.
The ball moves a bit faster.
2010/06/22
Have all of the overlays for chips 1-3.
The programming is finished for 1-3.
Changed movement of the computer player a bit.
Reprogrammed the first chip to make it play more like the original system.
2010/06/20
Made some icons for the overlays.
Fixed up the overlays a bit.
2010/06/16
Fixed the background problem by using the reset background system action.
2010/06/04
Started to make the second game chip.
Added two more overlays.
External links