Textview
From GameBrew
Textview
General
Author
JongHyuk Park (Bliss)
Last Updated
2008/07/21
Type
Utilities
Version
1.2b2 Standalone
License
Mixed
Links
Download
Website
Textview (Korean) is a standalone text viewer for NDS.
Features
Rotation view (0, 90, 270, mode).
Saving last viewed file and position.
Bookmarking.
File browsing.
Changing brightness.
Localization.
Supported CJK Languages.
Supported skin.
Supported soft-reset with reset.mse of moonshell.
User guide
To change brightness, user needs to edit globalsettings.ini to make a default setting.
For CJK Languages suppors and Localization, edit globalsettings.ini.
Copy proper reset.mse into /textview/ for soft-reset supported with reset.mse of MoonShell.
Controls
R - Adjust Brightness (will not be saved)
Start - Setup menu
Select - Browse file
Down/B - Next page
Up/X - Previous page
Right/A - Go to top page
Left/Y - Go to next bookmark, Add/remove bookmark
Note: Parenthesis stands for Buttons in 270″ rotated screen.
Screenshots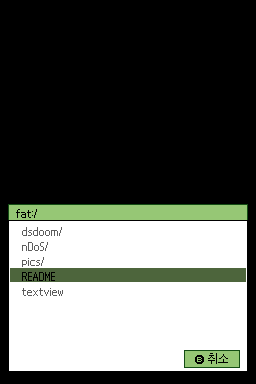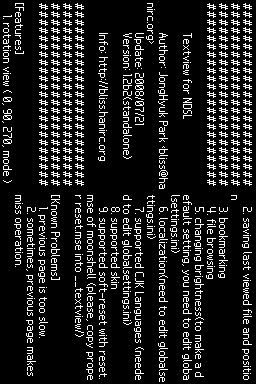 Known issues
Previous page is slow.
Sometimes, previous page makes miss operation.
Changelog
Version 1.2b2 2008/07/21
Supported to changing font in setting menu.
Version 1.2b1 2008/07/17
Implemented as standalone from akrpg/ak2 plugin.
External links