Draw
From GameBrew
Draw On DS
General
Author
Davr
Last Updated
2006/07/26
Type
Other Apps
Version
2006
License
Mixed
Links
Download
Website
Draw On DS is adrawing homebrew application for the Nintendo DS. This application is a port of sketching application Sketches of Q.
In the latest version, loading is DISABLED as libfat does not support directory listing yet. For a fully functional version, please use version R10.
It was participated in NEO summer coding contest 2006 (winner).
Features
New GUI.
Smooth drawing.
Bucket fill.
And much more.
User guide
It contains the following tools:
Brush - With line sizes from 1 to 5 half-pixels.
Smudge - Will smear the colors around, can be used to create a watercolor like effect.
Picker - The standard eyedropper tool, select a color from off of the canvas.
Bucket - Using a unique slow-fill method, which allows you to fill open shapes.
Eraser - Needs some more work, if you erase slowly it does funny things.
If your card is not supported by Draw, but it does have SRAM (that is, a slot-2 card), then use the save to SRAM option in Draw. Transfer the save file to PC, and try renaming it to .png and see if it opens.
If it does not open, you can try using a savegame convertor and convert file to the Supercard One/Ninjapass/DSLinker(.sav) format, then renaming to PNG.
Controls
Up/Down - Change tool size
Left/Right - Change current tool
A - Load PNG from CF/SD
B - Load PNG from SRAM
X - Save PNG to CF/SD
Y - Save PNG to SRAM
Select - New/clear drawing
Screenshots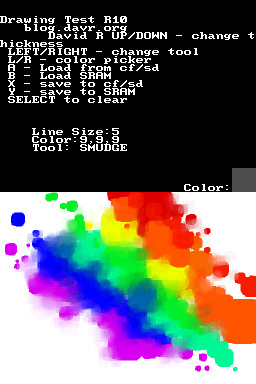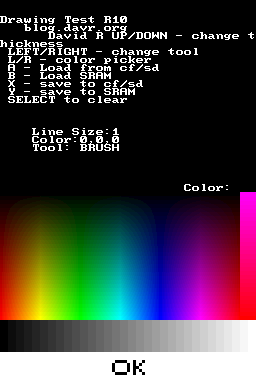 Compatibility
Tested, working: GBAMP, Supercard CF.
Tested, seems to create 0kb files? M3 SD.
Untested, but should work on: M3 CF, Supercard SD, Neoflash MK2/3.
Untested, may or may not work: Max Media Player/Dock, EFA2.
Known issues
Brush size: You cannot change brush size via GUI, and it does not show your current size.
Changelog
2006/07/26
Minor update.
loading is disabled as libfat does not support directory listing yet.
2006/04/18
2006/04/13
2006/04/10 R10
Color Picker. Press L to bring it up, then tap the color you want.
Multiple Saves. Each image is saved with the current date & time.
Save to PNG directly onto the memory card.
External links