ManuSO
From GameBrew
ManuSO
General
Author
ManuelVS
Last Updated
2011/10/31
Type
Operating systems
Version
Halloween 2011
License
Mixed
Links
Download
Website
Homebrew menu consists of a Textpad, calculator and stopwatch and other applications, and several games.
User guide
Applications
Textpad - Write from simple notes to a logbook, save it and open it.
Calculator - Solve equations including first and second degree and square roots.
Stopwatch - Measure all kinds of temporary fractions in hours, minutes and seconds.
Brightness Changer - Change brightness of DS.
Games
Battle - A fierce battle where to beat opponent.
Tennis for Two - Pong game.
Controls
Stylus - Full control of homebrew
Start - Back to desktop
Screensshots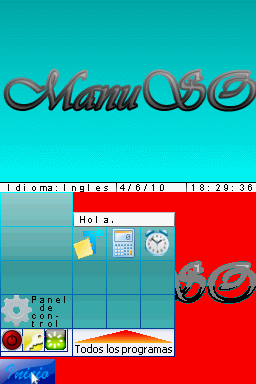 Compatibility
Tested on:
M3DS Real (firmware 4.8b)
TTDS/DSTT (firmware 1.17a12)
R4 Wood (firmware 1.07)
Acekard2i (AKAIO firmware 1.7)
TTDS/DSTT (firmware rev13 1.17a12)

Changelog
Halloween Version Release
Fixed errors in the texts.
Change in charts: Halloween theme.
Version 3.5 2011/07/16
Added two games: Battle and Tennis.
Enhanced Calculator: Solve equations of first and second degree and square roots.
Configuration. Brightness at startup.
Author Information.
Version 3.2 2011/06/24
Fixed error "PAlib can not put all sprites".
Advance to the new look of the calculator.
Folder called "ManuSO" at the root of the microSD.
Added Brightness Changer and Sounds.
Version 3.0 2010/08/07
Fixed several bugs.
Fixed bug in the calculator to make it 0.
Changed the boot menu.
Added sounds to the beginning and end.
Improvements textpad now where you can store your documents and the name you want and write more than 65000 characters.
Version 3.0
Version 2.5 2010/05/06
External links