DSwiki
From GameBrew
DSwiki
General
Author
OlliPolli
Last Updated
2009/03/20
Type
Utilities
Version
0.3 Alpha 2
License
Mixed
Links
Download
Website
Source
DSwiki is an offline viewer for Wiki markup, for example for the Wikipedia, Wikibooks, Wiktionaries. It is NOT a web browser.
This homebrew is optimal for all people with a Nintendo DS that like to have their information "portable", but cannot access the Internet directly. So far, no Program was very good in displaying the Wikipedia on the DS. NewDictS can display an uncompressed dump, but this dump is outdated, and the Wikipedia has grown dramatically since then, so compression was absolutely necessary. In addition, most homebrew programs can't handle UTF-8.
It was ranked 6th in the NEO Spring Coding Compo 2009, APP section.
Features
Get the complete Wikipedia on a Nintendo DS (English edition fits on a 4GB storage device, German edition is 1.2GB).
Quite good handling of internal links.
Alternative display text and appended letters are supported to create the same look as in the online version.
Subpage links are supported.
Very good Unicode/UTF8-Support.
Fast and easy searchable index.
Bookmarks.
Installation
Download and extract file, DLDI patch it if needed and copy it to the root directory of the card.
Create a folder in the root of your card called dswiki.
Create a dump of the wiki site you want to use, pre-made dump.
Copy all the files ifo, idx, ao1, ao2 and db? to the folder you created.
User guide
Take the tutorial at the first start, or start it any time later from the menu.
A random article will be loaded at the start.
Controls
Navigation:
Up/Down - Scroll one line backward/forward
Left/Right - Scroll one page backward/forward
L/R - Go one page back/forward in history
Select - Choose another available wiki
Load Articles:
A - Go to another random article
Stylus - Follow a link on the bottom screen
Screenshots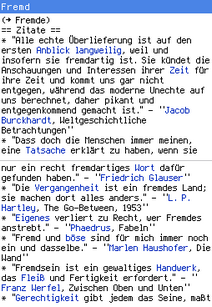 Changelog
Version 0.3 alpha 2
Fixed some issues with the translation from wiki-markup to XML. That results in a significantly higher number of pages to display correctly.
Percent indicator updates to show the progress while processing the DOM.
Slightly reformulated the textbrowser-part of the tutorial.
Doubled the memory space for caching font data, resulting in a better performance with non-standard languages.
Credits
DSwiki is based on:
Thanks to Markus Kuhn + some other fonts + Titlegraphic.
Thanks to beloved wife.
External links