Phidias
From GameBrew
Phidias
General
Author
Tapio Pyrhönen (Tassu)
Last Updated
2007/04/20
Type
Other Apps
Version
Full
License
Mixed
Links
Download
Website
Phidias is a drawing program for Nintendo DS made by Tapio Pyrhönen (aka Tassu). It has all the features needed to create amazing drawings and pixel art.
This homebrew was participated in the NEO Spring Coding Compo 2007.
Installation
Download and extract file.
DLDI patch .nds file and copy it to the root directory of the card.
User guide
Drawings are saved in BMP format (maximum resolution is 512x384 or 384x512).
Controls
L - Toggle between drawing and menu screen
D-Pad - Scroll image
A/B - Zoom in/out
X/Y - Set tool size
Start - Reset view
Select - Undo/redo
R+Left/Right - Set tool pressure
R+Up/Down - Set tool size
R+Stylus(any direction) - Offset the image (can create seamless textures)
L+R+Stylus(any direction) - Flip the image horizontally/vertically
A (in color picker) - Add chosen color to palette
A (in brush selection) - Save current image as a brush (saves a resized 32x32 grayscale image to brushes folder)
Double tap the pencil or brush icon to enter the brush selecting screen. Everything else should be self explanatory.
Screenshots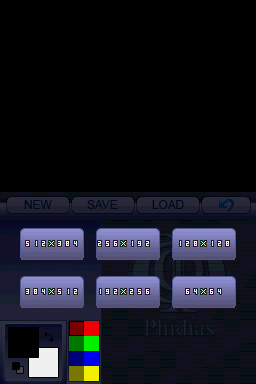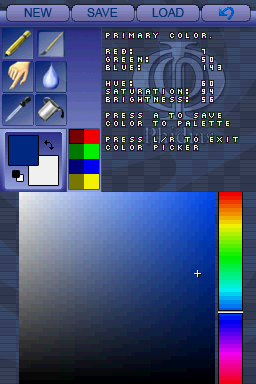 Media
Drawing with Nintendo DS (Tapio Pyrhönen)

Known issues
Freezes occasionally. All drawn data is lost.
External links