Bible for NDS
From GameBrew
Bible for NDS
General
Author
biblefornds
Last Updated
2012/01/18
Type
Other Apps
Version
1.2
License
Mixed
Links
Download
Website
Source
Bible software for NDS, Lite, DSi and 3DS, It is a program for reading Bible using filesystem on DS flashcard.
Features
Very fast text loading.
Unlimited Bible versions.
Auto bookmarking on close.
Quick switch between Bible versions.
Streamlined for everyday reading.
Sounds and Minigame added.
Installation
Download and extract file.
Place the BIBLE_For_NDS.nds file anywhere on flash card and the Bible datafiles in the /data/Bible/ folder.
The download contains an NDS file and two english translation versions: LITV and AKJV. Please unpack all to the root folder of your flashcard, keeping the folder structure.
User guide
A few other Bible text versions can be found in the ExtraDataTranslations folder.
You can use the attached converter utility to use any version by processing a file, example can be found here.
The result will be in Bible for NDS format (it has many Bible versions in about 50 languages).
Note: Double byte languages (Chinese, Japanese, Korean, etc) are not supported yet.
Screenshots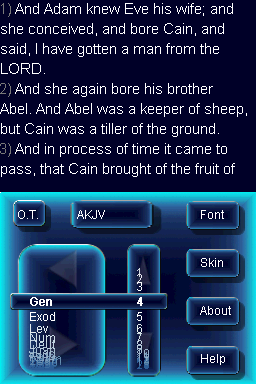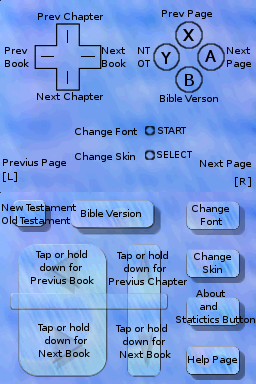 Compatibility
It can work with any flashcard supporting the fat filesystem, like R4, iTouch ds and many others.
Changelog
1.2
Minigame added.
Statistics added.
Many new backgrounds.
Streamlined, smaller .nds file.
Fixed bugs: Memory leak fixed, screen update.
Sounds added.
Help screen.
External links