PAINT BLACK DS
From GameBrew
PAINT BLACK DS
General
Author
Cid2mizard, Kukulcan
Last Updated
2008/08/19
Type
Other Apps
Version
1.2
License
Mixed
Links
Download
Website
PAINT BLACK DS is a drawing application (only black and white), you draw using 26 shapes arranged in the order of 26 alphabetical letters.
It was participated in the NEO Spring Coding Compo 2008 and ranked 5th.
Features
100 Slots for save your drawings.
100 drawings Bonus for PLAY.
Zoom, Grid, Gum, Reset.
Load and Save on DLDI.
You can use D-Pad or vertical/Horizontal sliders.
GALLERY on slideshow with 5 speed.
User guide
Once your creations have been saved in the EDITOR Menu, you can re-draw them by following the letters corresponding to the SHAPES, in the PLAY Menu.
A gallery is also available to scroll through your creations as well as the finished designs.
Controls
D-Pad - Moves the grid, Zoom selection
Start - Stop/Play, Skip Music
Stylus - Choose Shapes, Place Shape, Select by icons
Screenshots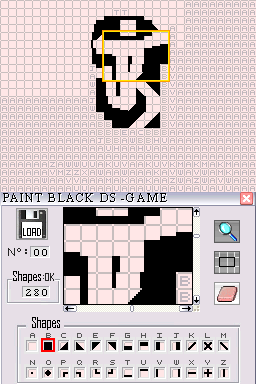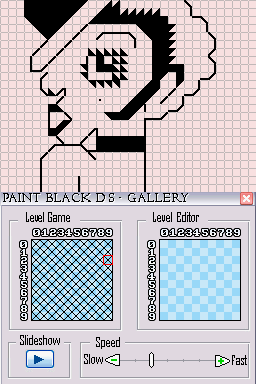 Changelog
v1.2
Correction of the eraser in PLAY mode without the zoom, thanks to TIWAZ.
v1.1
Correction of the inversion of the R and S shapes on the BG.
Credits
Code and Gfx: Cid2mizard and Kukulcan.
Voices: Cid2mizard.
Musics: Modarchive.org.
Library: Palib by Mollusk.
Drawings:

Level 00 by Cid2mizard.
Level 01 to 16 by Atilla.
Level 17 to 24 by Toiletking.
Level 25 to 30 by Kukulcan.
Level 31 to 99 by Cid2mizard.

Participation of Lobo for Title Screen.
External links