Animanatee
From GameBrew
Animanatee v1.5b Flipbook animation program for your DS. Create your own animations.
It was voted the 15th Top DS homebrew in the 2009 best DS homebrew contest.
Features
2D Animation Tool for the DS.
Tools: Brush (1-16 pixels), Eraser, Fill, Color Picker, Pointer locator.
Half-tone: Brush paints solid, halftone (checkerboard) or quartertone.
Pressure sensitivity setting for the Brush.
59 color slots (plus an alpha color).
Fill tool sensitivity (bridge 1 or 2 pixel gaps).
Canvas: 2-layered (Background & Foreground).
Merge both layers into the active one.
Copy an entire layer (BG or FG) and paste this in the active layer (whether BG or FG).
Scroll active layer (virtual torus).
Onion skinning: show previous, next or both frames of the Foreground grayed-out style.
Zoom in 2x, 4x, 8x or 16x.
Mask and Reverse Mask a color.
Adjustable framerate.
Exports animation as .avi.
User guide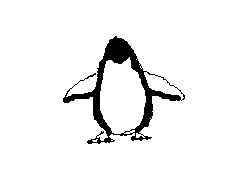 File Converter - Animanatee converter.
Animanatee files (Animation00-Animation99.anm) can be turned into .avi files either internally (Start/Save As/Export AVI) or externally through a small command-line executable that takes the Animationxx.anm file as input and outputs an Animationxx.avi file. This .avi file can be uploaded to eg YouTube without any issues.
Animanatee produces an uncompressed AVI file. Open it with Microsoft GIF Animator and save as .gif. Alternatively use SUPER.
Convert .anm files to .avi from windows.
Controls
START - File menu
L/R - Tools menu
Left/Y - Previous Frame
Right/A - Next Frame
Hold Up/X - Fill/Erase/ColorPicker
Hold Down/B - Cursor/Grab
Media
Animanatee Apple Tree Growth (nullkill)

L.E.D. Zeppelin Animanatee (Russell Moore)

Known issues
Animation show won't save, the error message says Device Not Found.
Changelog
1.5b
Preview is now loaded one frame at a time, to reduce memory usage (this was effectively cutting the maximum animation size in half).
External links