Winex DS
From GameBrew
Winex DS
General
Author
froskito
Last Updated
2009/09/11
Type
Operating systems
Version
3.0
License
Mixed
Links
Download
Website
Winex DS is a Shell application inspired by the Windows operating system.
User guide
It includes music player, a paint, a game, a section which indicates the time and Ds Winex version.
Controls
Stylus - Navigate through windows
Screenshots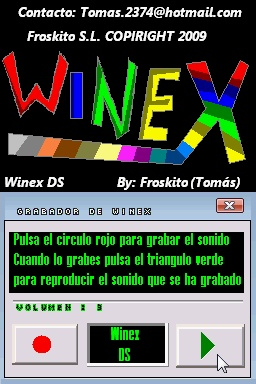 Compatibility
Tested on:
Original R4DS (firmware 1.18 and 1.19)
M3 DS Real (firmware 4.3c and M3 Skaura System 1.35)

Changelog
Version 3.0
Vista Style.
Recorder.
Wi-fi connector.
The tester now indicates the position of the stylus and when you press.
A toilet (an icon moves where we touch the touch screen) does not make sense.
Stopwatch.
In the notebook can change the color.
Video from youtube (not visible image, audio only).
Visually enhanced player.
Volume on the player.
Many more colors in the paint.
Version 2.0 2009/05/23
Added notepad.
Visually Enhanced puzzle.
Visually Enhanced tester.
Best of Winex graphics.
Version 1.0 2009/05/14
External links