WiXP
From GameBrew
WiXP
General
Author
ametller124
Last Updated
2011/08/23
Type
Operating systems
Version
6.0
License
Mixed
Links
Download
Website
WiXP is a Windows XP styled homebrew that allows you to listen to music, watch animated gifs and play various games.
User guide
Music Player - Listen to default music that comes with WiXP.
Gifs Viewer - View .gif files.
3D Pong - With a single player and a two player mode (sharing the same console).
Tetris - Classic tetris.
Paint - Paint application.
Controls
Stylus - Move cursor
D-Pad - Move cursor, Move Pong blade (player 1), Move Tetris piece
Right - Change image in image viewer
A - Click/rotate tetris piece
B - Exit some of the applications
A/B - Control pong blade (player 2)
A+B - Exit some applications
Select - Change camera in tennis
Screenshots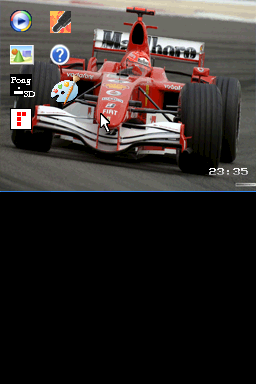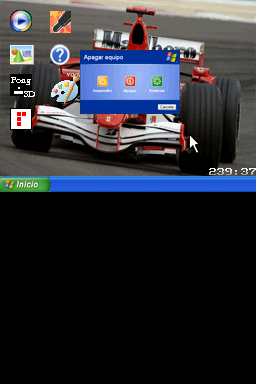 Media
WiXP 5.0 (ametller124)

Compatibility
Tested on:
SC Mini SD Slot-2 (unknown firmware)
SuperCard DSTwo (unknown firmware)
M3iZero (unknown firmware)
TTDS/DSTT (firmware 1.17)

Changelog
Version 6.0
Load the covers of albums in the viewfinder.
Added Paint. For now allows functions Pencil, color palette (switch between primary and secondary color with R, select one with A), draw line, rectangle select tool and color.
Fixed bugs of desktop icons.
Fixed bug in effect to close the player.
External links