NDoS
From GameBrew
nDos
General
Author
Gally and Mollusk
Last Updated
2005/08/10
Type
Utilities
Version
0.6
License
Mixed
Links
Download
Website
nDos is an utilities pack that includes note, reader, contact list and drawing apps.
It was ranked 2nd in the NEO Coding Competition 2005.
Installation
Download and extract file.
Add documents .doc/.txt/.html and adressbook .csv in the yourfile directory.
Launch make_your_ndos.bat to compile the rom.
User guide
First time booting nDoS, it will be asked to format SRAM. If you want to keep your saves, switch off DS and backup SRAM. If format is needed, hold Start button while booting nDoS.
To get to the menu, drag stylus to the top of the screen or press Start. You can then choose which application to launch with either stylus or D-Pad+A.
Mynote:
Save text by taping Save and loading saved text by taping Load.
Myreader:
Documents are listed on lower screen, taping on one while show a text preview on upper screen. Taping on it a second time will read the whole document.
Choose reading mode (vertical/horizontal) by pressing Select.
Zoom/change page with D-Pad or ABXY.
To get back to the list, press L and R at the same time.
Mycontact:
To display information on a contact, tap name with stylus. Drag the list down using the slider on the right.
Mypaint:
Press Select to invert both screen and change settings.
Change color between 4 selected (can change by setting RGB value) ones with D-Pad.
Myoption:
Tap Create to create an account; Login to login and so on.
Can define a default user so you don't have to login everytime on boot.
Controls
Uses the pad and stylus.
Close lid - Power-saving mode when you close the lid
Mypaint:
Rubber button - Erases the screen
Line button - For painting
Red cross button - Undo
Green arrows button - Select
Screenshots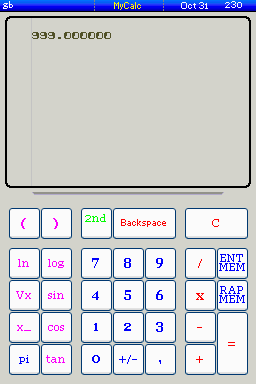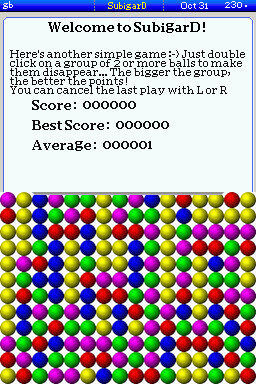 Changelog
v0.6 Wednesday 10 August
Formating (?) of sram at firstboot.
Global graphics improvement.
Now able to import .txt .doc .html to the new ebook reader.
Now able to import .csv to the new adress book.
Calculator code improved.
Added a functional paint.
Carré rouge has been rebuilt.
Added the game 'Boul' (from ppc) and 'demineur', for which best scores are saved.
Texts are now displayed in your DS zone language (Well, only for french and English, so for other languages, texts are diplayed in English).
Non available with wifime dsl (cuz of gbfs)
Wednesday 15 June
Fix of the main bugs and add of the "Carré Rouge" game with Birslip's participation.Much thanks to you Birslip.
Wednesday 1 June
Updated the user menu.
The keyboard has been optimized too, which is now abble to display each presure on any key, autorepeat for Backspace, and finaly the Shift key work now as a temporary Capslock.
Monday 30th May
Little update, with at the program the appearance of saves.
The typed text is saved. We just have to swich off the DS and to come back to see it back.
The keybord has been a little bite embelished, with the arrived of capital letters and some other symbols (you'll maybie need to add it to the font).
Credits
Special Thanks to Mollusk, Birslip, and all PlayerAdvance.org.
External links