Notepad DS
From GameBrew
Notepad DS
General
Author
pichubolt090 (Pichu-B)
Last Updated
2009/11/28
Type
Utilities
Version
Update 1.37
License
Mixed
Links
Download
Website
Notepad DS is similar to notepad.exe for Windows. It is able to Write and save any kind of text and keep it save on NDS.
Installation
Download and extract file.
DLDI patch .nds file and copy it to the root directory of the card.
User guide
Create, manage, edit and save own custom notes.
Note: The save function only works on a real DS, not in an emulator. The editing still works fine however.
Screenshots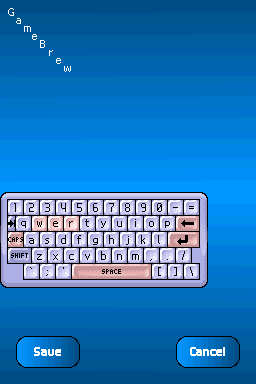 Changelog
Updates 2009/11/28
The loading was glitchy, so now you can only view your saved note. Will add more save slots in some time.
Updates 2009/11/14
Fixed a lot of bugs (causing text to appear all over the screen) and some save glitches.
Also added an Credits room.
External links