Lector&Traductor
From GameBrew
Reader & Translator
General
Author
memorydes
Last Updated
2009/11/20
Type
Utilities
Version
1.1a
License
Mixed
Links
Download
Website
Reader & Translator is an utility that allows you to read text files in other languages (utf8 encoding) and associate them with a dictionary to translate unknown words. The program adapts the line jumps to txt DS screen, allows you to save bookmarks, saved vocabulary lists editable PC, the text jumps etc.
It is participated in the Scenery Beta 2009, earning third place in the category Applications NDS.
Features
Open and read txt file in UTF-8.
Ability to assign dictionaries to open txt file.
Search the text words or expressions in the dictionary marking them on the touch screen.
Saving reading points.
Saving the terms in personal vocabulary lists also in txt files into editable PC.
Consultation guards vocabulary lists from the DS.
Bar fast-forwarding/fast-reversing in the text.
Adjust line breaks to the size of the DS without cutting words.
Enabled Asian languages ​​(Chinese and Japanese).
User guide
When starting the program you are prompted to select a file for reading. Then you will be asked to select a link to the file dictionary.
It's all explained in the manual attached.
Controls
Up/Down - Go back and forth
X - Display menu
Screenshots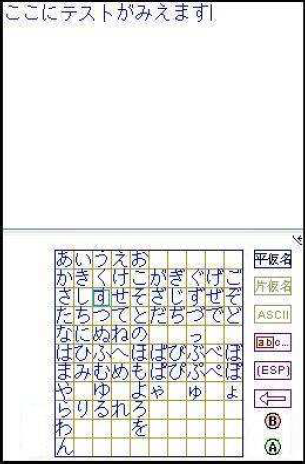 Changelog
Version 1.1a
Added possibility of interface in Spanish or English languages.
Added possibility of direct search in the dictionary by entering text by keyboard. Includes Japanese hiragana and katakana keyboards.
Background colors have been modified to facilitate reading and the possibility of working with light background or dark background has been added. The possibility of selecting the search method in the dictionary has been added:

Search Definitions starting with marked text.
Search for definitions that contain marked text.
External links