Aozora Bunko NDS
From GameBrew
Aozora Bunko NDS
General
Author
MeRAMAN
Last Updated
2012/05/17
Type
Utilities
Version
20120517 & Collection
License
Mixed
Links
Download
Website
Aozora Bunko NDS (Japanese: NDS 青空文庫) is a Aozora Bunko viewer for the NDS.
The collection contains many works of Japanese literature published in Aozora Bunko. These include out-of-copyright books or works that the authors wish to make freely available. Everything is in Japanese, including the interface and menus.
Installation
There are 107 Japanese literature in the collection.zip, if you place the NDS_AOZORA/ directory in the root directory of the SD card, it will be recognized as My Bookshelf from the application.
This archive also contains a .csv file that is a My Bookshelf list, so be careful not to overwrite it when copying to where the NDS_AOZORA/ directory already exists.
If you manually added a zip file, you can also update the My bookshelf list by "Checking" from the "Settings" menu in addition to editing the csv file.
Screenshots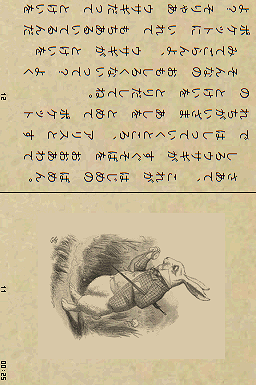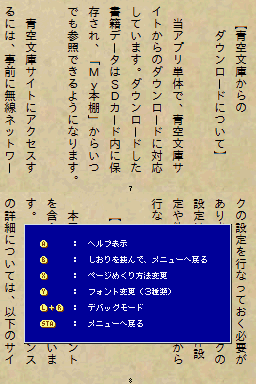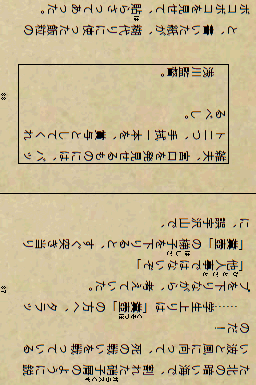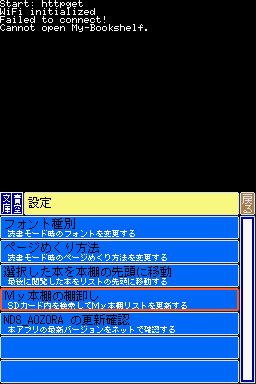 Controls
A - Show help
B - Bookmark and back to menu
X - Change page orientation
Y - Change font
L+R - Debug mode
Start - Back to menu
Compatibility
Tested by the author with DSTTi + YSMenu and no$gba.
Changelog
20120506
Fixed bugs in detecting illustration image tags with size information.
Fixed display problems with some png images.

Supports decoding images with gamma value correction and alpha channel.
Only frames are displayed for interlaced images (Not supported).

Correction of frame coordinate calculation of ruled box for image.
Skip new line at the top of the page and line break immediately after page break tag.
External links