IReader
From GameBrew
iReader for DSTWO
General
Author
Godslash
Last Updated
2010/12/22
Type
Utilities
Version
1.12
License
Mixed
Links
Download
Website
iReader for DSTWO is a document reader and image viewer for the Nintendo NDS with Supercard DSTWO.
Installation
Download and extract file.
Copy the iReader and ther _dstwoplug folder to root directory of SD card, overwrite the old version.
User guide
Change default current using language and current using language by modifying the file config_lang.txt. Of course, you can also change current using language by language selection menu.
The position of the file config_lang.txt: iReader\language\config_lang.txt
Because the bookmark was modified so your bookmark of old version can't be used. You need to delete it.
Supported formats
Text - TXT, HTML, INI.
Image - BMP, JPEG, JPG, PNG, TIF, GIF.
It can read ZIP files directly. Can also read PDF not recommended however (low compatibility).
Background and text color
Determined by the style settings, you can also customize background and text color in font settings menu.
If you want to use custom colors, remember to use the select button to choose the Font Color (or background color) by ticking in the left so that your custom color is valid, and the text does not use style settings color.
Controls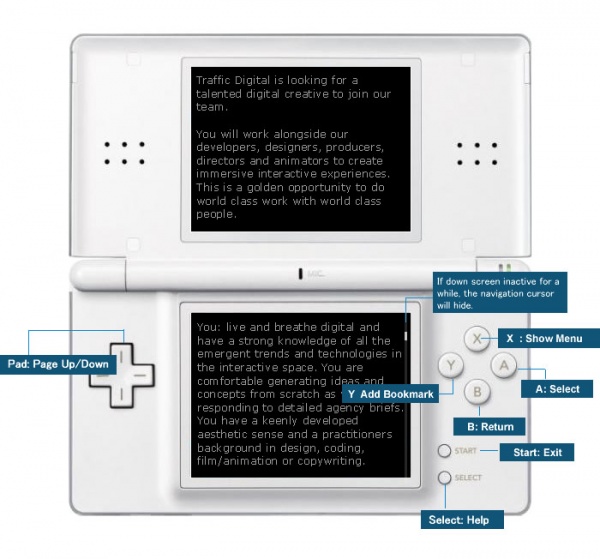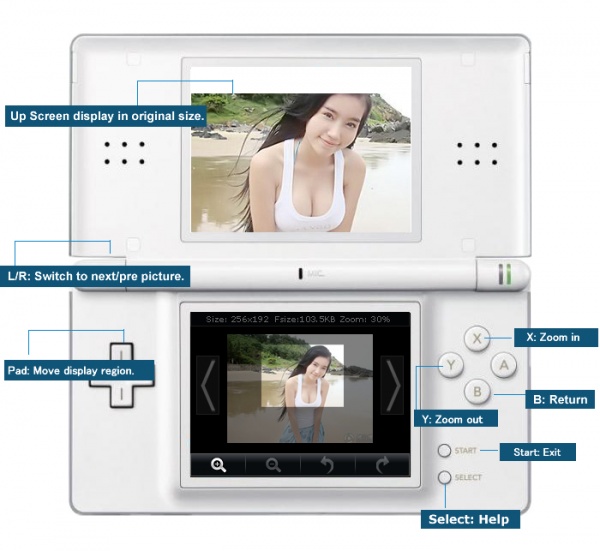 Known issues
PDF takes very long time to load.
Changelog
1.1 2010/10/12
The iReader software automatically parses supported files by extension type. ZIP files as virtual directories, Now these files can be accessed through the "All", "Book" and "Picture" sort option.
Added the R key for turn to next page when using vertical mode.
Fixed the case of lost words when using vertical mode.
Improved image zoom scale control mode. Now Scaling parameter can control from 25% to 400%, as 25% 50% 75% 100% 150% 200% 300% 400%.
Increased support for large images.
Fixed the case that large image can't be zoomed or rotated because of lack of memory.
Fixed some .bmp image browsing problem.
Improved the bookmark, Now you can save more than 10 bookmarks for one file.You can save bookmarks as many as you want.
2010/10/25
Fixed the crash problem happended when NDS was closed and than opened.
2010/11/09
Added Traditional Chinese edition.
Added the function of Automatic recognition language encoding, now support GB2312, GBK, BIG5, SJIS, unicode and UTF8 Automatic recognition. The text is longer, the accuracy of automatic recognition is higher, then the text is shorter, the accuracy of automatic recognition is lower, or it's not impossible to identify. When it's not impossible to identify, you'd better save it as unicode encoding.
Replaced the local fonts lib with the unicode fonts lib.
Added the IDLE mode, so that the power consumption is more lower.
Others, if you want to change to other language edition, you can modify the following file: iReader/language/config_lang.txt
2010/12/17
Fixed the issues of related keys, particularly the R key when using vertical mode, is too sensitive.
Fixed the problem the file list can not be normal sliding because of adding the IDLE mode.
Added the function of customizing background and font color in reading.
Added language selection.
External links