Unofficial RIN Mod PSP
From GameBrew
Unofficial RIN GB/GBC 1.32 RM (Rewind and Mirror)
General
Author
DAVEX
Last Updated
2007/07/29
Type
Handheld
Version
1.32 rm
License
Mixed
Links
Download
Website
Davex's RIN mod is a modified version of RIN, a Gameboy/Gameboy advance emulator for PSP with added features.
User guide
Davex's RIN mod adds two new features: Rewind and Mirror.
The former is a nifty little Sands of Time-like feature that lets players warp back in time without using save states.
By default, the rewind button is mapped to the PlayStation Portable's right trigger button, but according to davex, this can be changed in the Key Config menu.
The second feature, Mirror, horizontally inverts all game graphics.
For example, if you're playing a platformer that's played from left to right, the Mirror feature will let you play it from right to left instead.
Switching between normal and Mirror modes can be done through the Screen Size menu.
Screenshots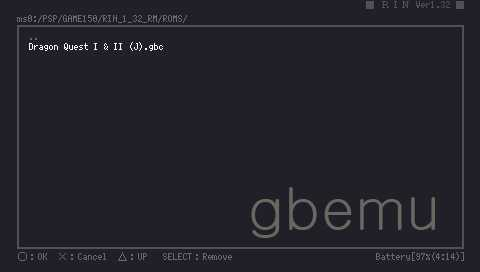 Media
PSP GO with RIN GB/GBC Emulator running Super Mario Land (Tiago Résio Alves)

External links