Net Yaroze 2014 PSP
From GameBrew
Net Yaroze 2014: Games & Demos [NTSC-PAL]
General
Author
Cobol, MadZiontist
Last Updated
2014/10/22
Type
Other Games
Version
2014
License
Mixed
Links
Download
Website
This is a compilation of of indie/homebrew developed games for the PlayStation, from way back when, on Sony's Net Yaroze dev console/kit. This release was put together by Cobol; the NTSC & PAL compatible PS disc images are subsequently converted into a PSP PS EBOOT by MadZiontist.
The Net Yaroze (ネットやろうぜ ) is a development kit for the PlayStation video game console. It was a promotion by Sony Computer Entertainment to computer programming hobbyists in 1997. Many games made by hobbyists on the Net Yaroze were released on various demo discs that came along with the Official UK PlayStation Magazine (and other official PlayStation magazines around Europe) from December 1997 up to March 2004. The last Official UK PlayStation Magazine issue, number 108, featured a compilation with many Net Yaroze games. A regular PlayStation disc, featuring a number of user-developed games, was produced by SCEE and sent to PAL zone Yaroze owners.
Some of these games were based on arcade classics such as Mr. Do and Puzzle Bobble, while others (e.g. Time Slip) were illustrations of a novel concept. The Game Developer UK Competition, organized by Scottish Enterprise in collaboration with the Scottish Games Alliance, Sony and Edge in 1998, accepted Net Yaroze entries; the overall winner was Chris Chadwick for his game Blitter Boy: Operation Monster Mall. An updated version of Time Slip was later released for Xbox Live Arcade in February 2011 and Windows in January 2012.
Contrary to popular belief, the Net Yaroze was neither the first nor only official consumer console development kit. The PC-Engine Develo pre-dates it, and the WonderWitch followed it. The GP32 can run user programs out of the box. Finally, many earlier consoles (Astrocade, Famicom…) offered limited programming capabilities with BASIC dialects.
Net Yaroze had no direct successors on subsequent PlayStation platforms, but Sony's Linux for PlayStation 2 and YA-BASIC offered a similar feature to hobbyists and amateur developers on the PlayStation 2 console.
Screenshots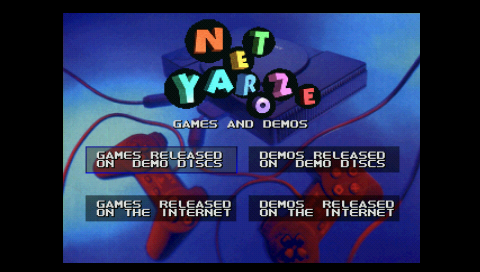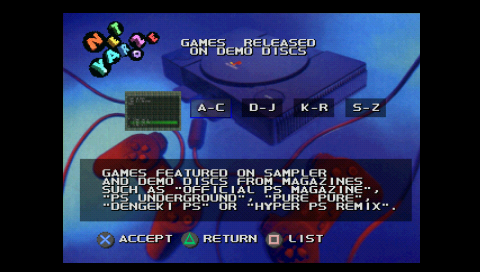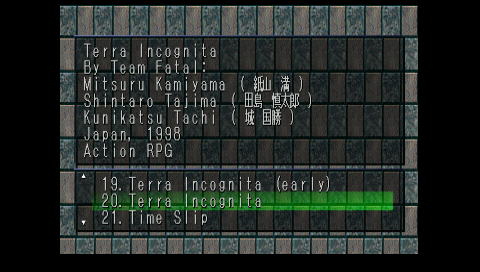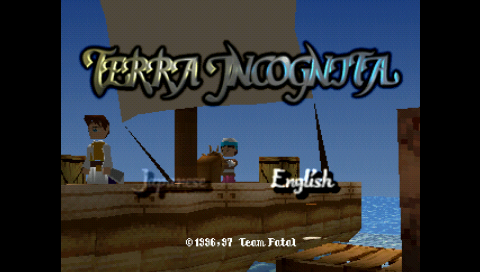 Compatibility
The EBOOT was tested on 6.60 ME-2.2 and runs perfectly from flash.
External links