NJEMU PSP
From GameBrew
NJEMU
General
Author
phoe-nix
Last Updated
2018/05/11
Type
Arcade
Version
2.3.5
License
Mixed
Links
Download
Website
Source
NJEmu is an emulator pack on the PSP that emulates old school arcade games for the Capcom Play Systems and Neo Geo Systems.
Originally made by NJ, it was updated by phoe-nix based on NJEmu v2.3.1 with bugfixs, added compatibility for bootleg roms and cheats supports.
The bundle contains the following homebrew applications:
Installation
Please refer to the individual pages for setup guides and tutorials.
Additional notes:
MVSPSP no longer require BIOS (unibios has been added).
romcnv is the conversion tools to generate cache files, which are required for MVSPSP and CPS2PSP.
If you are using PSV or PPSSPP, you can delete SystemButtons.prx as Home button is not available.
Controls
Home - Emulator menu
Select+Start (PSV or PPSSPP) - Emulator menu
Select - Help
Circle - Confirm
Cross - Cancel
Screenshots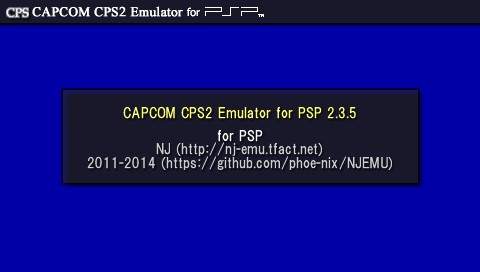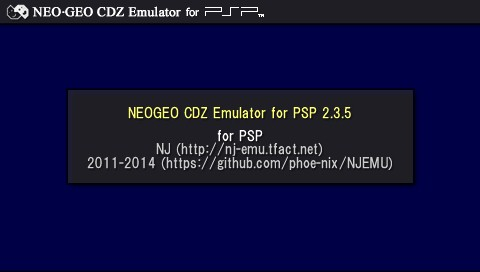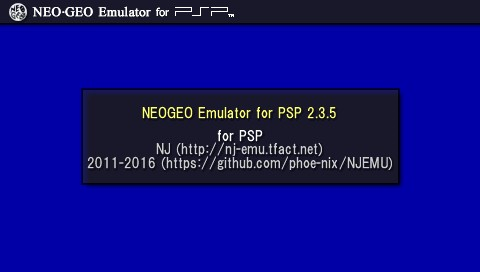 Change log
v2.3.5
NJEmu:
Romset use MAME0.152.
Font use simhei(CHARSET:GBK).
Japanese command list must use GBK charset,you can use notepad++ convert.
Fix png format bug.
Change help to select.
Change bios menu to R trigger.
Support multi language.
Added command hotkey.
Gamelist to 512.
Support cheat.
Added some romset(hack/bootleg).
CPS1PSP:
Fix dipswitch.
Fix Mercs can't use player3.
Added some hack roms button3.
Fix Warriors of Fate (bootleg).
Fix Huo Feng Huang(Chinese bootleg of Sangokushi II) sound.
MVSPSP:
Fix dip menu.
Fix Jockey Grand Prix.
Fix King of Gladiator (KOF'97 bootleg).
Support 128MB crom cache.
Support unibios 1.0-3.0 and neogit bios.
Support m1 decrypt.
Fix 000-lo.lo length.
NCDZPSP:
Fix 000-lo.lo length (fix sleep mode).
Credits
Cheat code by davex.
HBL/multi language support by 173210.
MAME team.
External links