VICE PSP
From GameBrew
VICE PSP is an emulator for the Commodore 64 (an 8-bit home computer also known as the C64 or the CBM 64) on the PSP.
This is a port of the Versatile Commodore Emulator to the Sony PlayStation Portable platform.
Features
Frameskip.
True Drive Emulation Toggling.
Custom Key Mappings.
Other Miscellaneous Options.
Installation
Unzip vice.zip into /PSP/GAME/ folder on the Memory Stick.
User guide
Tape and Disk Image Loading, Autoloading
Anytime you attempt to load a game from the Game tab, VICE PSP will reset the system; this is intended to make most games easily loadable.
To load tapes/disks without resetting the system, go to the System tab, select the Tape or Drive 8 menu option (depending on whether you want to load a tape or disk image) to load another image.
If a tape or disk image is already loaded, it will be ejected, and another one will be loaded in its place.
To autoload a program (load a program from a mounted image directly), first load the image, then go to the System tab, highlight the Tape or Drive 8 menu option. Choose a program from the list and then select to autoload it. Note that autoloading will reset the system.
Save State Autoloading
VICE PSP can be configured to automatically load a saved game whenever a new game is loaded via the Game tab.
To do this, specify one of the save state slots as the Autoload slot (Options tab). If a saved game exists in the specified slot, it will be automatically loaded.
Virtual keyboard
When the virtual keyboard is on, you can toggle the sticky keys feature (specifically for Shift and Ctrl). This allows Shift and Ctrl all to be held down at the same time while the user presses another virtual button.
Tap the Circle button and the selected virtual button remains held down and press again will release the virtual button.
Controls
Tape/Drive 8 menu:
Cross - Load tape or disk image (without resetting), Autoload program (reset system)
Triangle - Eject image
Right - Select program
Commodore 64:
D-Pad/Analog - Joystick Up/Down/Left/Right
Cross - Joystick Fire
Circle - Spacebar
Start - Run/Stop
R - Show virtual keyboard
L+R - Return to the emulator menu
Virtual keyboard:
D-Pad - Select virtual button
Square - Press a virtual button
Circle - Hold/release sticky virtual button (e.g. Shift and Ctrl)
Triangle - Unstick all stuck virtual buttons
Button configuration:
Square - Set mapping as the default mapping
Screenshots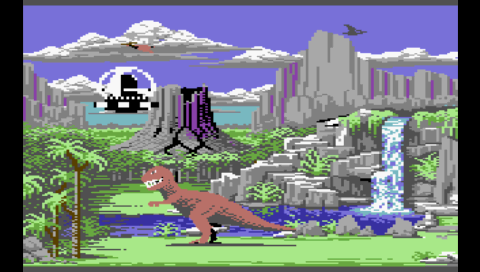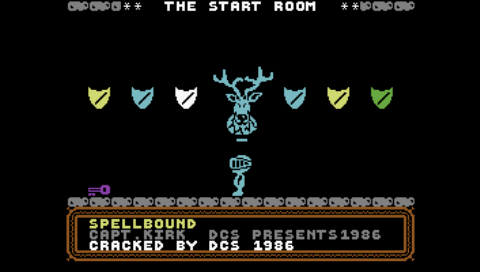 Compatibility
Version 3.x.x does not work on PSP 1000, Vice requires more memory now.
Known issues
Counter will sometimes report frames-per-second information incorrectly. This has to do with the sound rendering routine, which is shaky at the moment. Exiting to the emulator menu and returning will usually correct this.
When frame skipping is in effect, sound may crackle. This is also, most likely, a result of the above bug.
Changelog
v3.2.5r3 EBOOT (by Oldvic)
Fix the palette saving issue in Vice v3.2.5.
Fix the bug when trying to load a disk that has an empty directory (i.e. a blank disk or a data disk) the PSP crashes.
v3.2.5r2 EBOOT (by Oldvic)
Updated Eboot to fix Colodore palette saving issue. Drop it into your Vice folder and overwrite the other.
v3.2.5 (by rsn8887)
Fix slightly wrong palette colors.
Fix problems with palette set to none not working sometimes.
Make colodore the new default palette instead of pepto-pal.
v3.2.4r2 (by rsn8887)
Fix colodore.vpl palette file with the correct default colors from www.colodore.com.
v3.2.4 (by rsn8887)
Add SID model option with two choices: 6581, and 8580.
Add palette option with three choices: none (vice palette), pepto-pal, and colodore.
v3.2.3 2019/01/02 (by DelayedQuasar)
Updated to Vice 3.2 (support for EasyFlash3 crt games, sd2iec games, ...).
Updated attached images on System tab.
Bug fixes.
v2.2.15 2011/01/16
Added <- to the list of mappable controls.
v2.2.1 2011/01/02
Updated VICE to version 2.2.
Includes SFX Sound Sampler and SFX Sound Expander emulation.
Includes EasyFlash cartridge emulation.
v2.1.21 2009/06/03
Bugfix: Saving state while in NTSC mode resulted in a crash.
Bugfix: An extra line from the screen border appeared while in NTSC mode.
v2.1.2 2009/06/01
Added 4:3 (fit screen height) stretch mode, visible in NTSC mode or when border is disabled.
Added border toggle – shows/hides the border surrounding the main display area.
Added PAL/NTSC/Old NTSC mode selection.
Added vertical blanking (VSync) support, only available in NTSC mode.
Bugfix: PRG loading now works.
Bugfix: "fit screen" stretch mode aspect ratio was incorrect; now fixed.
Minor fixes.
v2.1.1 2009/05/23
Credits
VICE team - VICE.
Special thanks to the members of #vice-dev for the help.
External links