UO gрSP Kai PSP
From GameBrew
UO gрSP Kai
General
Author
Exophase, Takka, ErikPshat, Oldvic
Last Updated
2017/11/26
Type
Handheld
Version
3.4 test 4 build 225 & 230
License
Mixed
Links
b223 · b225 · b230 Download
Website
UO gрSP Kai is a Game Boy Advance emulator for PSP made by ErikPshat, further improved by Oldvic.
It is an improved version based on takka's Unofficial gpSP kai, which is modified upon gpSP (gameplaySP) originally released by Exophase.
Features
Save states.
Frameskip.
Custom key mappings.
Sound toggling.
CPU clock speed adjustment.
Support for game-specific configuration settings.
Screenshots.
Other miscellaneous options.
Installation
Note: The emulator requires an authentic GBA BIOS image file to run. The file is 16kb and should be called gba_bios.bin (md5sum: a860e8c0b6d573d191e4ec7db1b1e4f6) and present in the same location as the EBOOT.PBP file.
To install, place the folder UO gpSP kai into /PSP/GAME/.
Copy the GBA BIOS (gba_bios.bin) that you have obtained to /PSP/GAME/UO gpSP kai/gba_bios.bin.
User guide
The emulator supports GBA and BIN format. To save space on the memory card, compress images GBA in ZIP-format archives.
Images should be expanded in the folder /UO gрSP kai/GBA/ROM/.
You can change the control key settings in the configuration menu. It also has a savestats feature, frameskip adjustment in attempt to run game in faster speed and mild cheat support.
Controls
Rom selection:
Up/Down - Navigate current selection window
Left/Right - Switch between file window and directory window
Circle/Start - Select current entry
Square - Go one directory up
Game Boy Advance:
D-Pad - GBA D-Pad
Circle - GBA A button
Cross - GBA B button
Square/Start - GBA Start button
Select - GBA Select button
L - GBA L-Trigger
R - GBA R-Trigger
Triangle - Adjust frameksip
Frameskip adjustment:
Triangle+Up/Down - Increase/decrease frameskip
Down - Change from 0 to auto
Up - Change from auto to 0
Menu:
Up/Down - Navigate current menu.
Left/Right - Change value in current menu selection (if a value is present)
Circle/Start - Select current entry (see help for entry to see what this means)
Square - Exit current menu
Screenshots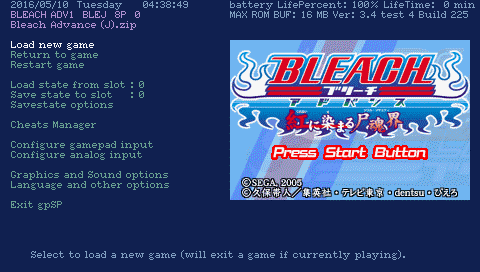 Changelog
v3.4 test 4 build 230 2017/11/26 (by Oldvic)
Fixed regression: Analog Nub mapping works separately from Dpad again.
Fixed regression: Now by default, GBA button 'B' is mapped to 'Cross' and GBA button 'A' is mapped to 'Circle' to match a real GBA. The 225 build had these buttons reversed by default.
'Update backup' is now defaulted to 'Automatic' rather than 'Exit only'. It can still be configured on a per game basis.
v3.4 test 4 build 225 2016/05/08 (by ErikPshat)
Fixed lots of bugs, mostly inconsistencies in the program code and the code to be translated.
Added new lines in the emulator menu and accordingly in translation language files.
Painted pixel by pixel, and compiled a new font "eureka.fbm".
Also in the font added all German-Spanish-Portuguese-Greek characters umlauts with full Western European encoding cp1252 with the required width for each letter.
Fixed some items are broken before.
Fixed alternating list by changing the buttons in the joystick configuration.
Now run almost all games from ZIP archives. Previously, large files are not unpacked emulator.
Other minor fixes.
Signed to run on the official firmware, and of course on the custom firmware.
UnOfficial gpSP kai 3.4 test 4 build 92 (by takka)
Compatible with CFW 5.50GEN-B.
Corrected some sound gaps.
Credits
Exophase: Main developer - Official release "gpSP" latest v0.9.
takka: Developer - UnOfficial release "UO gpSP kai" latest v3.4 test 3 build 92.
toBsucht - For testing and helping translating.
External links