PSwan PSP
From GameBrew
PSwan PSP
General
Author
kmg
Last Updated
2005/07/03
Type
Handheld
Version
0.0.7
License
Mixed
Links
Download
Website
Source
PSwan is an open source WonderSwan emulator developed by kmg. It is based on OSwan 0.7 by Cal2 (David Raingeard).
Installation
Copy the pSwan folder to ms:/PSP/GAME/.
Place your rom in the ROM folder. It does not support ZIP files.
User guide
ROM file size have to be less than 16MB.
SRAM and STATE files are not compatible with the original OSwan.
Controls
Circle - A button
Cross - B button
Start - Start button
R - Menu
Screenshots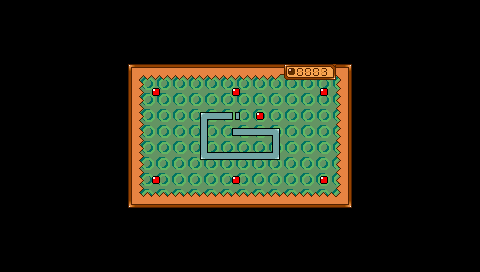 Compatibility
Tested by the author on FW 1.0.
Known issues
Can be slow at times, better without sound.
Changelog
v0.07 2005/07/03
Change the menu structure. Mostly borrowed from RIN & Nester J.
Background bitmap (put PSWANMENU.bmp in the same folder as EBOOT.PBP.)
Change the text color for menu display.
Key config added (there are setting items of Y1, Y2, Y3, Y4 in the config, but they are not supported).
Supports state save/load (without SLOT switching).
v0.06 2005/06/26
Sound 1-4ch. The timing does not match.
Others.
v0.05
Sound 1ch. It's too messy.
v0.04
csd library changed from 1.01 to 1.02.
Some other things.
v0.03 2005/06/09
Changed csd library from 1.00 to 1.01 (-> Memory Stick access speed improvement, etc.).
Add menu.
Supports vertical display.
Change the display timing as a test.
v0.02 2005/06/08
File selection function added.
SRAM save.
v0.01 2005/06/06
For the time being, a picture came out.
Credits
Special Thanks to
Dox - Cygne.
David Raingeard - OSwan.
みらきち (Mirakichi) & uo version's author - RIN.
ruka - NesterJ for PSP, PSPE.
nem - HelloPSP R1 & PSPsound.
csd - csd library for PSP.
永尾 制一 - ナガ10フォント (naga10 font).
MAME project - NEC CPU emulator code.
External links