SuitekiDS
From GameBrew
SuitekiDS
General
Author
hispadic (Abel Camarena Bernabeu)
Last Updated
2010/06/19
Type
Other Apps
Version
0.1a BETA1
License
GNU
Links
Download
Website
Source
SuitekiDS, or Suiteki1, is a Spanish-Japanese and English-Japanese dictionaries for the NDS.
Features
Support for 2 dictionaries:

Japanese-English Dictionary (Edict).
Japanese-Spanish Dictionary (Hispadic).

Kanji Dictionary (Kanjidic2):

Searches by reading, line, degree, SKIP and/or radicals.

Manga viewer (high resolution, but only 16 shades of gray):

With the possibility of a bookmark for each manga.

Reverse Lookups (Spanish-Japanese and English-Japanese).
Vocabulary lists (create and upload).
Brightness selection and screensaver.
User guide
Word Dictionary
Search:
RD - Search kanji with selected text as reading.
X - Clear selected text (or everything if no selection).
SV - Save current entry on word list (file). By default uses fat/SuitekiDS.txt, if you have a word list loaded that file will be used (reload to see the added entries).
DT - Change between Hispadic (Spanish) and Edict (English).
LT - Latin keyboard.
KN - Kana keyboard.
GF - Graffiti input (latin only).
Result and list:
DS - Search selected text.
If the word list is empty, it is because you didn't loaded a word list. Use the File Browser.
Kanji
Search:
Radical - Radical LookUp.
Append - Put selected kanji on dictionary's search field. You can filter by the followings.

Grade - From/To/Include Kanji with no grade information.
Strokes - From/To.
SKIP - SKIP code (first number must be 0 to disable).
Please see here.
Recognition:
Clear - Clear writings.
Equal - Display only kanjis with the same stroke number.
Unusu - Unusual strokes.
Err - Number of wrong strokes allowed.
Found - Press it when you find the desired kanji.
The recognition system needs the strokes to be drawed in the right order. The place and size of the strokes, does not care at all!
Manga Viewer - If you can only see a black screen it is because you didn't loaded a manga. Use the File Browser.
File Browser - Can load TXT files (word lists) and MNG files (manga).
Options - Can adjust light level.
Controls
Y - Exit, Main menu
Word Dictionary:
Up/Down - Scroll dictionary result
Left/Right - Use when multiple results are found
X/B - Previous/next entry
Y - Main menu
Manga Viewer:
A - Manga Viewer Options
Stylus - Move
File Browser
A - Load file, Open Folder
Screenshots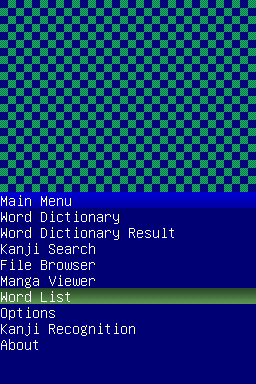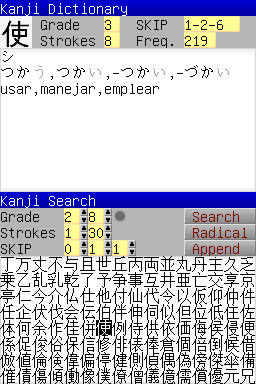 Media
SuitekiDS alpha (hispadic)

SuitekiDS alpha (kanji recognition wip) (hispadic)

SuitekiDS alpha (on emulator) (hispadic)

Compatibility
Tested on Nintendo DS Lite.
External links