Wallpaper
From GameBrew
Wallpaper
General
Author
Tigro
Last Updated
2008/08/24
Type
Other Apps
Version
0.1
License
Mixed
Links
Download
Website
WALLPAPER, stands for What About LLearning Polish lAnguage with Personal nativE speakeR?, is an homebrew application for learning Polish language on the NDS.
This is an entry for the GBAtemp August Homebrew Bounty in 2008.
Installation
Download and extract file.
Place WALLPAPER.nds (slot-1 carts) or WALLPAPER.sc.nds/WALLPAPER.ds.gba (slot-2 carts) to your flashcart.
Controls
Stylus - Navigate through menus
D-Pad - Navigate through lessons
L/R - Previous/next lesson
B - Go the previous screen
Screenshots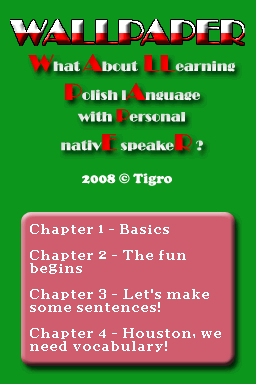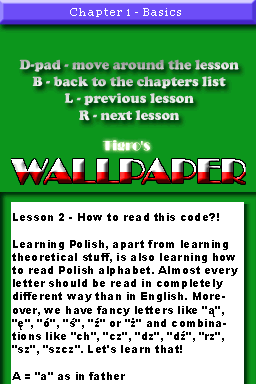 External links