Project JDS
From GameBrew
Project JDS
General
Author
Ashai Rey (A.A. van Zoelen)
Last Updated
2007/10/22
Type
Other Apps
Version
1.30
License
Mixed
Links
Download
Website
Source
Project JDS is a tool to help memorizing different Japanese alphabets or hiragana and katakana.
It was participated in the NEO Summer Coding Compo 2008, ranked 10th.
Features
Romaji (latin letters) to hiragana.
Romaji to katakana.
Hiragana to katakana.
Hiragana to romaji.
Hiragana writing.
Katakana to hiragana.
Katakana to romaji.
Katakana writing.
Voiced sounds.
Pronouncation of each character.
Select specific sets for learning.
Number of strokes of each character.
Animated stroke order.
Stylus operated.
Help.
Progress score.
Controls
Operate with Stylus.
Screenshots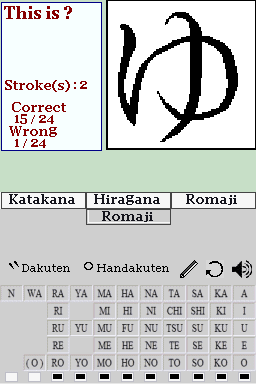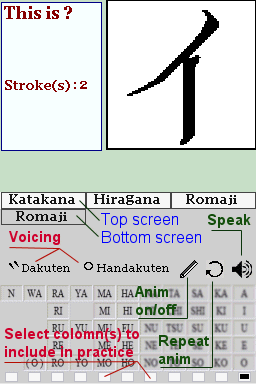 Changelog
v1.30
When you have many right/wrong answers the result wouldn't fit anymore in the box onscreen.
v1.29
Check button incorrectly erased - Corrected.
Raised the volume of speech.
Added Good and Fault sounds.
Added stylus clicks on menu items.
Added an intro sound.
v1.28
Added NEXT and CHECK buttons to to writing screen.
v1.27
Changed drawing width from 6 to 4.
Reset the shown image when selecting a new set.
Removed bug from selection grouping.
Typo - Changed Stoke(s) into Stroke(s).
v1.26
Changed scoring system. Now it displays the total score and the current score for this practise. The current score is reset when a menu action is done, except for help.
v1.25
Removed the 1 second timeout when a wrong answer is given and replaced that for a 'Wait for touch screen'.
Removed the 1 second timeout when you check if your drawing is ok and replaced that for a 'Wait for touch screen'.
Added 'Touch to continue !' message.
Remove the bug that cause a partial screen wipe when the menu was open and you clicked besides the unfolded menu.
Startup bug removed. Apparently no menu was selected even when it was shown at startup.
v1.2
Added still images and added a switch to turn off animation.
Changed randomizer. Each character now is shown 3 times. When fault then it is more likely to come again. When ok it will drop in in rank. When drawn 3 times correct it is no more shown until all characters has been drawn correctly 3 time.
Removed a bug in the Romaji menu, border not shown.
Removed two other bugs in the menu.
v1.12
v1.11
RI incorrect image in katagana and hiragana.
Added version control.
v1.1
Correct names for Maru and Nigori.
No columns selected bug.
External links