Japanese Hiragana & Katakana Review
From GameBrew
Japanese Hiragana & Katakana Review
General
Author
DesertDog (Multiple:Option)
Last Updated
2009/08/13
Type
Other Apps
Version
20090813
License
Mixed
Links
Download
Website
Japanese Hiragana & Katakana Review is a kana character review tool aimed at upper-beginner and intermediate Japanese students. The application allows you to review your ability to recognize each of the 46 hiragana or katakana characters from visual and audio cues. Performance is ranked by speed, mistakes made and review difficulty. The application will also highlight the your weakest kana characters for further study.
Features include voice samples from native Japanese speakers, Rumble Pak and DS Motion support. In addition, the application will greet you appropriately depending on the time of day.
It was placed 1st in the NEO Summer Coding Compo 2009, APP section and ranked 1st.
User guide
The 46 kana characters will be displayed on the bottom screen in a random order. When prompted by the top screen (Normal difficulty) or by audio (Hard difficulty), search for and touch the correct character.
Normal:
Top screen shows next character to find.
Lower screen doesn't shuffle after each correct answer.
Score multipler = 1x.
Hard:
Top screen doesn't show next character to find. Listen to the speaker.
Lower screen shuffles after each correct answer.
Tap the red button to have the speaker repeat the current character.
Score multipler = 2x.
Controls
Stylus only.
L/R or tilt the DS (DS Motion) - Activate hint mode, 10 characters will be removed from lower screen (easier to find target character)
Screenshots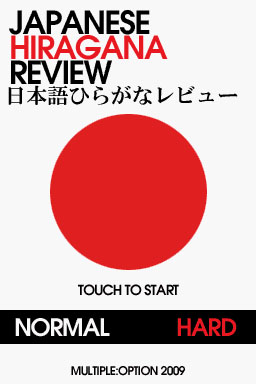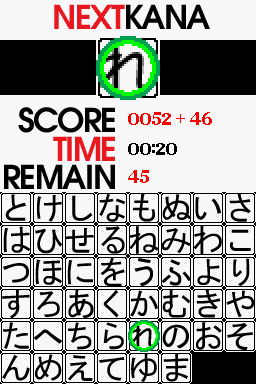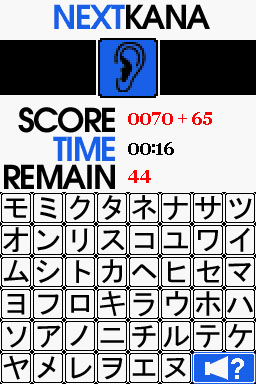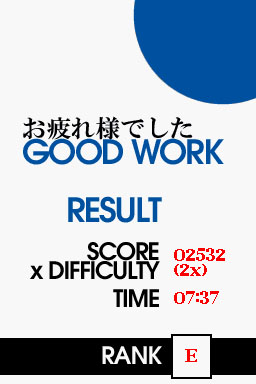 Compatibility
Tested and working with R6 Gold, R4 and No$GBA.
Rumble feature requires a Rumble Pak. Motion feature requires a DS Motion cart or an R6 Gold, which has motion support built-in.
Changelog
20090813
Credits
Devkitpro - DS Homebrew tools.
PALib & PAlib Forums - DS Homebrew tools & dev help.
Instant Immersion Japanese - Language audio course.
External links