MemoryDeS
From GameBrew
MemoryDeS
General
Author
memorydes
Last Updated
2009/01/23
Type
Other Apps
Version
1.2
License
Mixed
Links
Download
Website
MemoryDes is a homebrew application that allows you to study and review vocabulary lists in language learning. You could also use it for learning and reviewing any other type of lists or questions and answers of any kind. It is a complete homebrew highly customizable, similar to the commercial DS game: My vocabulary expert.
It comes in 1st place for the Scenery Beta 2008.
Note: The link is for v1.0 only (latest release is v1.2).
Features
Random output of words.
Output in order from a point given by the user.
Storage of three review lists of up to 100 entries.
Output in order or random of the data of review lists.
Performing Test with possibility of filtering by words.
Statistics Save your progress in tests you make.
Delete word lists overview.
Empty lists complete overview.
Empty statistics data.
Select different databases or edit databases.
Help function and about.
Search function.
Compiler to create your own databases.
Installation
Put the .nds file in the root directory of your flash card.
In addition to the .nds file, MemoryDeS uses a number of associated files. The database files .bms should be decompressed in the same location.
Leave other data files (.dat and .cms) in the same root directory. If you delete them you will lose the progress data and review lists that you have created.
User guide
Data files
Database files (BMS) contain the database, be it vocabulary or anything else. A sample database is included which runs as default (Japanese Noken Level 4).
Review list data files (DAT) are created automatically by the program, which contains data from the user-saved checklists.
Statistics files (CMS) contain data on the progress made from the tests. Also created automatically.
You can download databases from the official site or create your own. Database can be compiled with an excel sheet from the PC.
Screen layout
Top screen displays the content of the database. You may notice three or two darker areas, which depends on the field of the database entry.
Bottom screen countains icons on the both sides. Text books in the middle will display relative information of your database entries, words you saved in review lists and other temporary messages/information.
Controls
Operate with Stylus.
Screenshots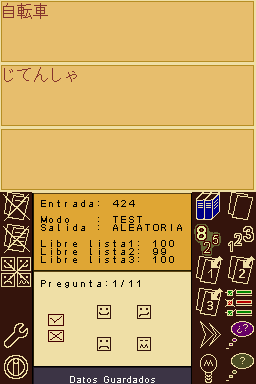 Changelog
v1.2
Added search function.
Integrated database compiler in the same executable. The compiler can now be accessed from the MemoryDeS options menu.
Improved the output of the maximum number of characters on the screen, thus optimizing the use of the screen (It will only be appreciated if you have handled databases with records of more than 192 characters, in which case the texts will not be mounted now).
v1.1
Corrected error whereby the program sometimes hung when making the list of questions for a Test.
Corrected error in the editing interface of databases from the DS whereby the databases that were edited or created again were not displayed correctly when opened after editing.
External links