OpenTyrian 3DS
From GameBrew
OpenTyrian
General
Author
nop90
Last Updated
2017/03/11
Type
Shooter
Version
1.1
License
GPL-2.0
Links
Download
Website
Source
OpenTyrian is a port of the DOS shoot-em-up Tyrian. Jason Emery generously gave the OpenTyrian developers a copy of the Tyrian 2.1 source code, which has since been ported from Turbo Pascal to C. The port uses SDL, making it easily cross-platform.
Original game was developed by World Tree Games Productions and published in 1995 by Epic MegaGames.
Tyrian is an arcade-style vertical scrolling shooter. The story is set in 20,031 where you play as Trent Hawkins, a skilled fighter-pilot employed to fight Microsol and save the galaxy.
Installation
In the zip there is a folder with the 3dsx, smdh and the xml (for target title selection) files inside, to be used with a Homebrew Launcher, and a CIA file to be installed with FBI.
For the CIA build you will also need a DSP dump on your SD card.
This is a one-time process and is needed for all homebrew CIAs that use DSP audio.
The game creates a OpenTyrian subfolder inside the 3ds folder if doesn't exist. Here will be stored the gamesave.
Screenshots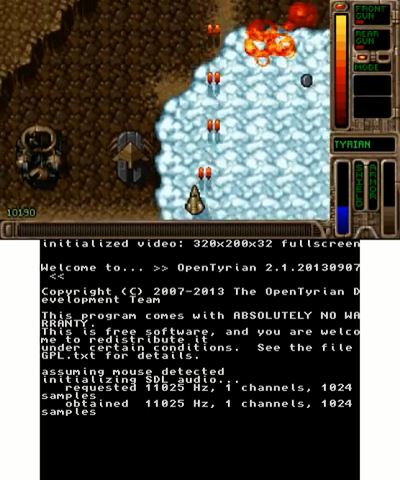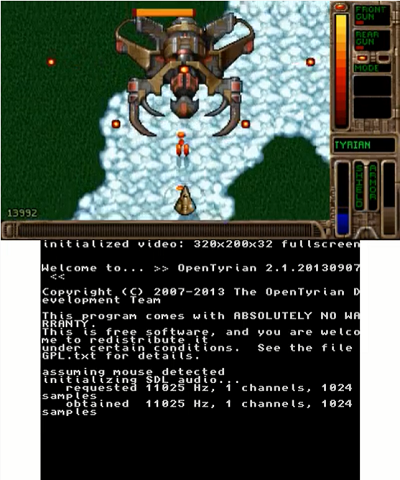 Media
OpenTyrian 3DS v1.0 (Cid2Mizard)

Changelog
Ver. 1.1 2017/03/11
Removed name input screen for highscores.
Ver. 1.0 2017/03/05
Ver. 0.1 2017/03/04
First reelase in 3dsx and CIA format.
Credits
The original source is here.
This game uses the SDL 1.2 library for 3ds.
All the resources are included in the executable using romfs.
External links