GBA VC Banner and Icon Generator 3DS
From GameBrew
GBA VC Banner and Icon Generator
General
Author
TheNerdWIzard
Last Updated
2015/06/27
Type
Other PC Utilities
Version
1.0.1
License
Mixed
Links
Download
Website
This is a Java based program that helps you create the images that are needed for GBA VC cia creation. Originally created to use with GBA ROM Converter.
User guide
How to use
Obtain a title screen image of the gba game you want banners for. This can be with an emulator's screenshot capabilities, or you can just google for one, it doesn't really matter.
Click Load Image and select the image you want to use.
Enter the title of the game into the input boxes above this message box. If you want the title on a single line on the banner, use only the top box. If you want to split it up on two lines, use both input boxes. There is a max of 24 characters line.
Click Create and Save Images. A folder will be created in the same folder where the .jar file is. This folder will contain your images. There is no prompt to save, the program will do it for you.
Notes
If you click the Create and Save Images button multiple times before loading a new image, it will ruin your banner1 and icon image, so click once and everything should be fine. Will work on a fix. Meanwhile, just load the image again if you clicked twice.
Make sure the .jar file is in its own folder. This is for organizational purposes. The program will generate a folder with the same name as the image you provided. This folder will contain your images once they are created.
Text used for banner2 is arial bolded.
Screenshots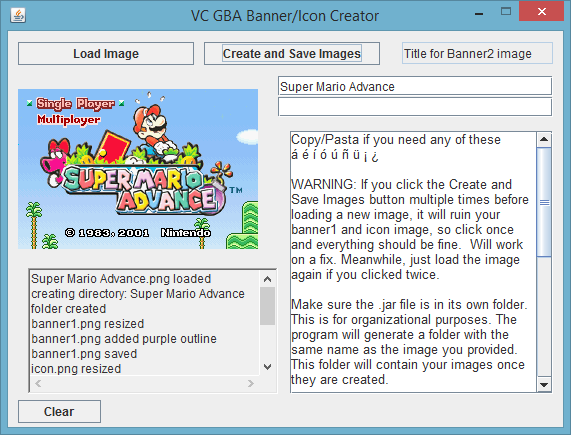 Changelog
Version 1.0.1
The Banner1 image generated is now a 128x128 image, the only size acceptable by Riku's program for cia creation.
External links