DDLC-LOVE 3DS
From GameBrew
DDLC-LOVE
General
Author
LukeZGD
Last Updated
2020/10/03
Type
Adventure
Version
1.1.9
License
Mixed
Links
Download
Website
Source
| | |
| --- | --- |
| | This application has been obsoleted by one or more applications that serve the same purpose, but are more stable or maintained. |
DDLC-LOVE is a homebrew port of Doki Doki Literature Club to the Nintendo 3DS. Programmed in Lua, running under the LovePotion framework.
Note: This game is not suitable for children or those who are easily disturbed.
Installation
Available in 3DSX and CIA formats.
3DSX - Use the .3dsx provided with the Homebrew Launcher.
CIA - Install the .cia file using any CIA installer of your choice.
PC - Drag the game folder to LÖVE 0.10.2/11.1.
Note that only the latest Luma3DS is supported. Also make sure that dspfirm.cdc is dumped for audio to work (use DSP1).
User guide
Locations of save files:
3DS - sdmc:/3ds/data/DDLC-LOVE/
Windows - %appdata%\LOVE\DDLC-3DS\
You can reset the save data and start over by deleting all of the files on that folder.
New 3DS/2DS users should disable L2 Cache before playing this.
For crashes on startup, try deleting persistent in the save folder.
Screenshots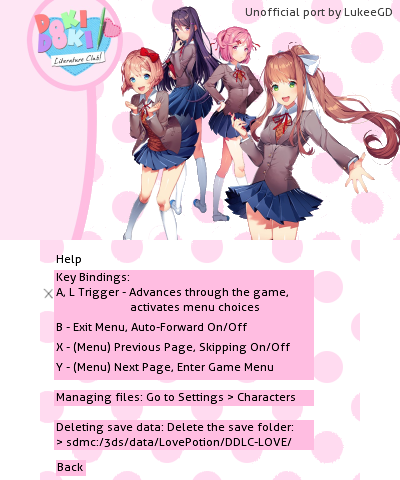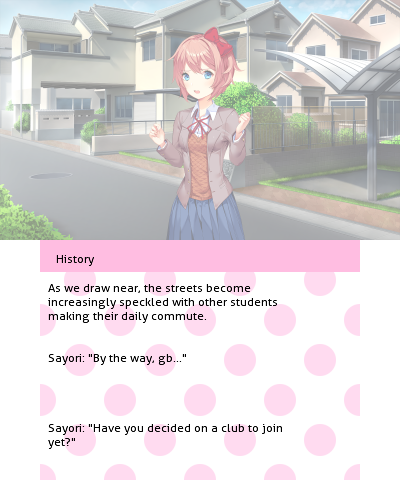 Known issues
Litmited support for 3DS/no longer being updated (see issues):
You may see graphical glitches when playing for a while.
Aller_Rg, Halogen, and default LovePotion 1.0.9 font only.
A lot of effects and other stuff present in ddlclove are not implemented.
Credits
Original game by Team Salvato. This port is unofficial and is not affiliated with Team Salvato. Please support the official game.
TurtleP for LovePotion.
External links