CTorrent-DNH-DA PSP
From GameBrew
CTorrent-DNH-DA
General
Author
Daniel Ribeiro (DanielBR/ferion11)
Last Updated
2011/05/02
Type
Other
Version
1.5 append version r2
License
Mixed
Links
Download
Website
Source
CTorrent-DNH-PSP-DA is a modified PSP homebrew application of CTorrentPSP (by danzel), coded by developer Daniel Ribeiro (aka DanielBR or ferion11).
This mod contains bugfix and improvements to work on more recent firewares.
Screenshots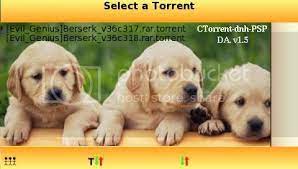 Compatibility
Tested on 5.00 M33-6 Prometheus 4.
Changelog
v1.5 - append version R2
ctorrent-3.3.2-negative-ints.patch.
ctorrent-CVE-2009-1759.patch.
v1.5
(Summarizing) A lot of bugfix and improvements by updating from "ctorrent-dnh3.2" to "ctorrent-dnh3.3.2". You can see for yourself in http://www.rahul.net/dholmes/ctorrent/changelog.html
Create the ctorrentpsp.ini for some configuration. For now, it just have one: "torrent_dir" - the directory where the CTorrent-DNH-PSP-DA will read the torrents.
External links