Zelda Ocarina Of Time 3D Plugin 3DS
From GameBrew
Zelda Ocarina Of Time 3D Plugin
General
Author
Nanquitas
Last Updated
2018/04/03
Type
Plugins
Version
3.3
License
Mixed
Links
Download
Website
Source
Zelda Ocarina Of Time 3D Plugin is a plugin for Zelda Ocarina Of Time 3D using CTRPluginFramework.
User guide
Note: Altering the data of a game can potentially lead to a corrupted save game, it is recommended you keep a backup of you save data (you can use JKSM or svdt).
A guide for CTRPF can be found here.
The plugin were only tested on EUR version, but it should work on USA version.
Controls
Select - Open menu (default hotkey)
Screenshots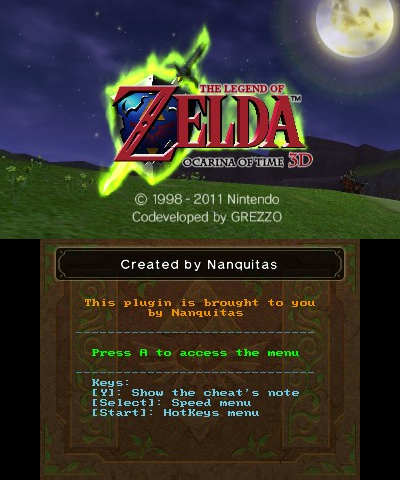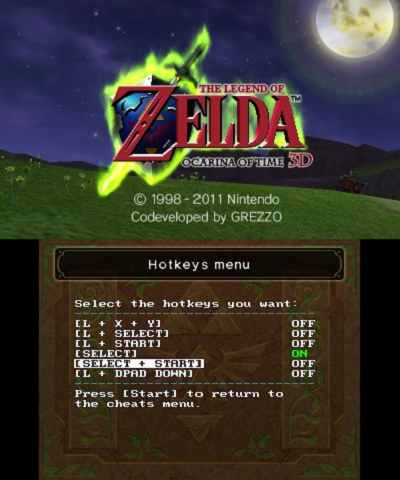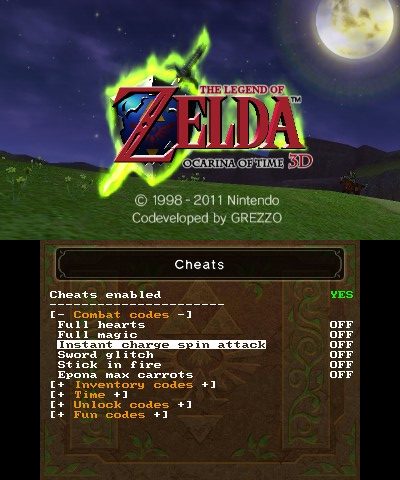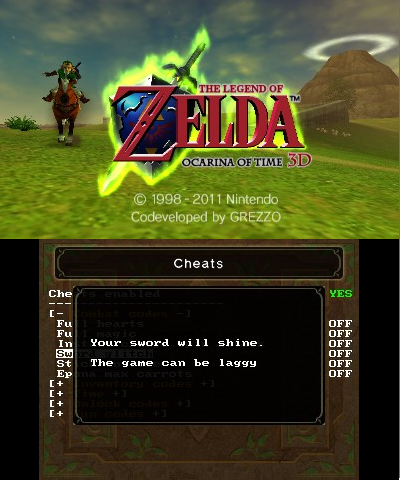 Changelog
V3.3 2018/04/03
Update to CTRPF Beta 0.4.0 (Brings a better search engine and the Action Replay engine).
Can be loaded using Luma's plugin loader.
Fixed bugs.
Now open source on github.
V3.2 2017/10/24
Update to CTRPF Beta 0.3.0.
Added an Inventory Modifier with a list of items.
V3.1 2017/07/30
Updated CTRPF to Beta 0.2.0:

You can now customize a cheat's hotkeys and they will be saved.
On NTR 3.4 and higher, an icon will be displayed while the settings are saved, don't turn off your console while this icon is visible to prevent any file corruption.
Stability update.

Add the cheats that were previously added by @RyDog:

Gauntlet color modifier.
Time modifier.
Infinite explosives.
Unlock all items.
Use all items.
V3 2017/07/18
Now use CTRPluginFramework.
An invincible cheat.
A way to unlock the bottles/Edit their contents.
V2.0 2016/07/23
New ui to look more like the game.
New base pointer for the cheats, so it should be more stable.
A note system to print infos about a cheat.
Basically the whole core plugin changed.
New codes (but fully untested).
Try to add some protection on previous cheats to avoid crash while changing map (might not works).
Corrections and optimizations.
External links