Wolfenstein 3D
From GameBrew - a wiki dedicated to Video Game Homebrew.
Wolfenstein 3D DS
General
Author(s)
LazyOne (Lazy1)
Type
Shooter
Version
2009
Licence
Mixed
Links
Download
Website
Source

Wolfenstein 3D DS is a port of Wolfenstein 3D on the NDS.
Features
Native 256×192 display for menus and in-game.
Scales to 320×200 when a larger image needs to be displayed.
Framerate improved to > 30fps.
Colour correction is done properly.
Installation
Note: Download contains the latest version and prior releases (test release, demo, alpha and alpha-fix) which come with shareware.
To install, prepare your data files and put them in /data/wolf3d/, it doesn't matter where you put the executables though.
DLDI Patch for your device if you need to.
And finally, the zip file for Wolf 3D DS contains 4 NDS binaries:
wolf3d-ds_sdm.nds - Spear of Destiny demo.
wolf3d-ds_sod.nds - Spear of Destiny registered.
wolf3d-ds_wl1.nds - Wolfenstein 3D shareware.
wolf3d-ds_wl6.nds - Wolfenstein 3D registered.
Another way of looking at it is the _xxx binary goes with the extension of your data files.
Controls
D-Pad - Move
L/R - Strafe left and right
A - Fire
B - Use
Y - Run
X - Change weapon
Start - Pause
Select - Back to menu
A - Menu OK/Y
B - Menu cancel/N
Screenshots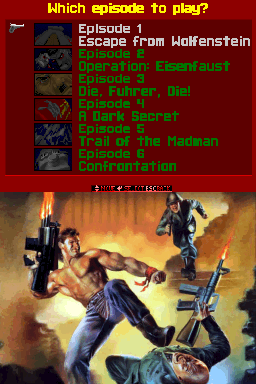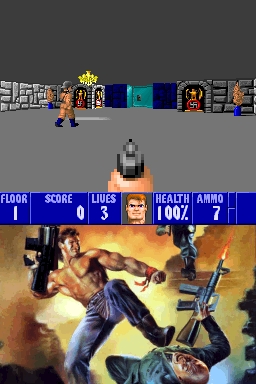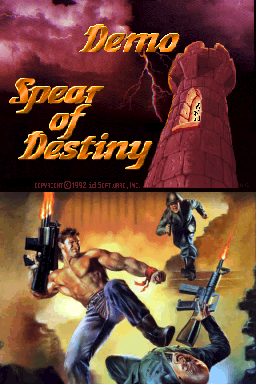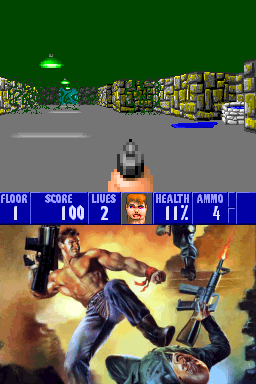 Media
Wolfenstein 3D DS Preview (TheLazy1)

Compatibility
Tested on:
iTouch DS (firmware 3.2b)
TTDS/DSTT (firmware 1.17)
R4DS (firmware 1.19)
Acekard 2i (firmware 4.17)

Known issues
No left handed mode yet.
No automap.
On screen keyboard does not allow capital letters for some reason.
Demos do not play properly.
Changelog
Alpha 2007/07/27
Compiled with the latest libfat (should now work with most/all DLDI devices).
Sound (no music).
Status bar on bottom screen.
Saving.
External links