Sudoku DS - Dopefish
From GameBrew - a wiki dedicated to Video Game Homebrew.

Sudoku DS a Sudoku game for the Nintendo DS. It has 550 puzzles in varies difficulty levels and a hint system.
Features
Hundreds of built-in puzzles of various difficulty, with the capability to dynamically add more.
Tracks which puzzles you've successfully completed, and how many times you've attempted each puzzle.
Save your progress on a puzzle, and return to it later.
Hint feature for when you get stuck, or cheat and reveal the final solution.
Installation
Patch the .nds file with the correct DLDI for your card.
Copy the .nds file to your SD/CF card.
Copy the sudokuds directory to the root of your SD/CF card.
Note: The game will work without libfat support, however you'll only have access to a couple dozen puzzles and will be unable to save.
User guide
The goal is to fill the grid with the number from 1 to 9, however you cannot use the same number more than once in any row, column or 3x3 grid.
Each puzzle begins with some numbers already placed on the 9x9 grid: it's up to you to figure out the rest.
Controls
D-Pad - Move between options, Move between grids
Stylus - Select option, Select number, Delete number
Screenshots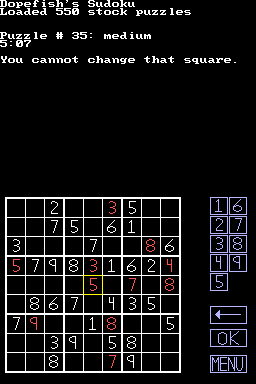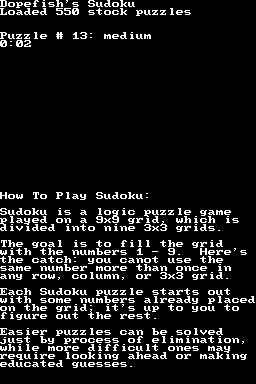 Changelog
0.5 2008/04/12
Fixed bug causing mistakes to not be counted.
0.4 2007/12/10
Added fancy title screen and "you won" screen.
Included 50 puzzles in the .NDS file so libfat is not strictly required to play.
0.3 2007/11/26
Various interface improvements.
0.2 2007/11/24
Added puzzle selection screen and solver.
0.1 2007/11/20
Initial release; not distributed.
Credits
The solving functions were adapted from the public domain console-based sudoku game found at http://www.laurasia.com.au/sudoku (apt-get install sudoku on Debian/Ubuntu).
External links