SocketPunch 3DS
From GameBrew
Socket Punch is an application developed for sending CIA files through local network and install them directly using FBI's network abilities.
The app is available for desktop Java 8 platform and as a Java Native EXE installer. The Java version (JAR file) should work on Windows, Mac and some Linux distros, given that you can install the latest Oracle's Java version. The Java Native EXE installer works on Windows 7 and higher, and doesn't need you to install Java separately.
Note: No longer being maintained. It is recommended using custom install which is a lot faster than SocketPunch.
User guide
As of April, 2016, Steveice10, the author of FBI, has released the 2.0 update. This update changed the way data is sent to the app from the PC. The Desktop version is already compatible with this new protocol, while the Android version still needs to be updated.
While the Socket Punch Desktop app already works with the FBI 2 update, if you want to use the old sending method, you can use the inculded FBI 1.4 build from wjchen (this build fixes the problem with big files stopping midway when transferring in FBI 1.4).
Instructions for Android
Start the app from your app menu.
Press the OPEN CIA button. A Document Selector will show up, look for your CIA files.
After selecting you CIA file in step 2, open FBI in your 3DS and press Y button.
Copy the IP Address that FBI will show to the "IP Address" field in the app.
Press the Punch icon blue button in the bottom right corner and wait for your CIA file to be installed.
Instructions for desktop
Start the JAR extension app. Or double click the installed Socket Punch app if you used the Native EXE installer.
Look for CIAS in your directories pressing the folder icon button in the upper right corner. (Or add them by dragging and dropping on the window).
Open FBI in your 3DS and press Y button.
Copy the IP Address that FBI will show to the "3DS IP Address" field in the app.
Press the Punch icon blue button in the bottom right corner and wait for your CIAS to be installed.
Note: It is suggested to disable the prompt option in FBI by pressing A when waiting for network. Specially if you're transfering many CIAs.
FAQ
Q. FBI doesn't want to connect, but I'm in a local network!
Sadly, FBI most times doesn't connect if you don't have an active internet connection in your 3DS (with internet access, and not only local network access). If you are sure your local network have internet access, check that your internet connection is correctly set up in your 3DS Settings.
Q. The transfer stops before it reaches 100%. I get a MISALIGNED error or something like that in FBI.
Download and install wjchen's build of FBI. The download link is nearly on the top of this post. Look for orange letters.
Q. Does it work if I'm using my 3DS connected to wifi tethering on my mobile device?
Yes, as long as your PC is connected to that same mobile network, and you have internet access.
Q. From my last question, I was talking about the Android app working with wifi tethering connected 3DS.
Yes, it should work. You can turn on your WiFi tethering on an Android device, and after connecting your 3DS to it, the Android app should work correctly with the local IP your 3DS will show.
Screenshots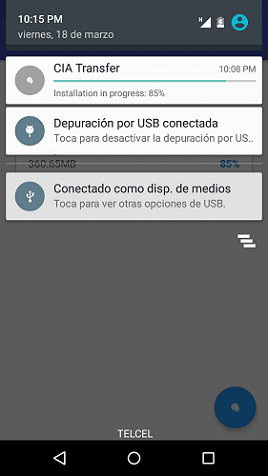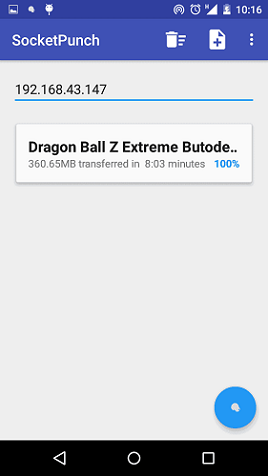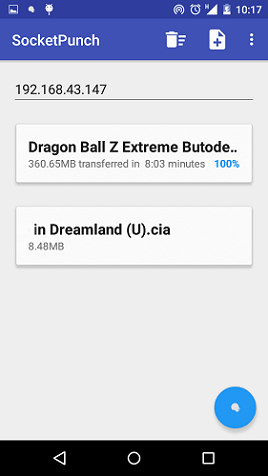 Compatibility
The Android port should work on version 2.3.3 or higher. However, it's only been tested on Android 4.4 and 5.1 so far.
Changelog
Desktop v1.2.5 2016/06/19
Fixed bug that prevented to send more than one file at in the same queue when using Newest Mode with FBI 2.
Fixed bug that didn't open the file chooser if your last opened directory was removed or deleted.
Note:There are some issues with language files right now. Method for loading strings will change for the next release, now it'll use XML files-
Android v0.5 alpha 2016/03/18
Now you can add several files to a queue list. However, it still has problems installing all the queue at once, you'll need to press the Punch for each file.
Pressing the Punch button will only attempt to send and install uncompleted files.
Added button to the action bar for removing completed files from queue.
It now tells you the elapsed minutes when the transfer completes, only in the app right now, not in the notification bar.
If your app gets dropped out while transferring, the actual transfer will go on and complete alright, but the queue will be lost. This only should happen if you put the app in the background, and open several more of them. So, it's completely ok to transfer big files, since even if the app closes for opening others, the transfer is in a background app-independent thread.
Improved the GUI a little bit to make it more similar to the desktop version.
Android v0.3 alpha 2016/03/15
Added still untested support for Android 2.3.3 and higher.
You can put app in background (change to another app, press home button, sleep your phone) and the transfer will go on.
Added app punch icon for the app menu.
Android v0.1 alpha 2016/03/12
Socket Punch for Android devices. Just install the APK.
You can only open and send one file at a time.
Requires Android 4.4 or higher.
Still in alpha. There could be problems if you suspend your phone or put the app in the background while transferring a CIA. The transfer would cancel and the app will crash.
Work in progress for adding all the functions of the desktop version. Excepting Drag & Drop.
Credits
The original SocketPunch GUI app was developed by GBATemp's user @Joshtech thanks to @Steveice10's sockfile. You can find the orignal SocketPunch it in his original post.
External links