Rise of the Triad DS
From GameBrew - a wiki dedicated to Video Game Homebrew.
ROTTDS
General
Author
Dopefish
Last Updated
2007/12/06
Type
Shooter
Version
0.7
License
Mixed
Links
Download
Website
Source

This is a port of Apogee's 3D action title Rise of the Triad, a first-person shooter originally released in 1994.
This port duplicates the functionality of the original game on modern operating systems, including Linux, Win32, and OSX. It is built upon GPF's SDL port to the NDS and is currently a work in progress.
Installation
Download contains the following:
rottds_registered.nds - For registered full version only.
rottds_shareware.nds - For shareware version only.
Shareware Data Files.
Shareware Music.
Patch the .nds file with the correct DLDI driver and copy to your card.
Create a folder named rott to the root of your card, copy the data files to the rott directory:
For shareware version - HUNTBGIN.WAD, HUNTBGIN.RTL, HUNTBGIN.RTC, REMOTE1.RTS.
For registered version - DARKWAR.WAD, DARKWAR.RTL, DARKWAR.RTC, REMOTE1.RTS.
As of v0.5 music is supported, for registered version you can extract the music using the Extract Music option from the in-game menu (the registered version will work for shareware version also).
To add music copy the .wav files to the rott directory of your memory card, and ROTTDS will play them.
User guide
You are part of an elite group of operatives called HUNT (High-risk United Nations Taskforce), and you must stop a maniac cult leader from killing millions of people.
While scouting a remote island, you are suddenly surrounded by enemy troops with guns blaring.
Controls
D-Pad - Arrow keys (move/turn)
L/R - Strafe
A - Fire
B - Use, Open door
Y - Run
X - Swap weapons
Start - Enter, Navigate menus
Select - Escape, Return to menu
Screenshots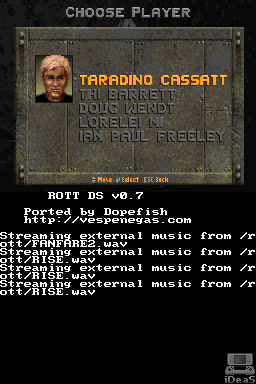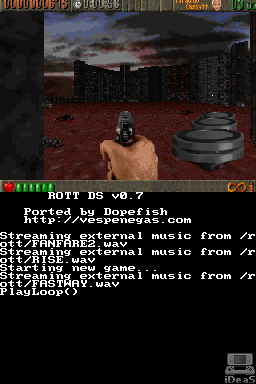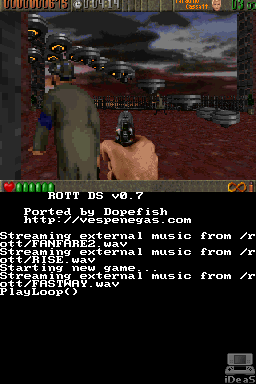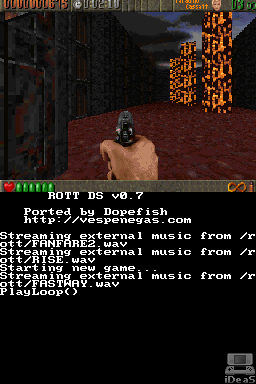 Compatbility
Tested on iDeaS.
Known issues
Demos go out of sync.
DOS border coloring not implemented.
Screen shake from DOS version not implemented.
No netplay support.
Music requires extra work, and has some glitches.
Changelog
Version 0.7
Improved music playback.
MissileCam added (it's on the controls menu).
Sleep mode (closing the DS lid).
Updated for devkitARM r21.
Version 0.6
Some changes to reduce memory usage (should avoid Z_Malloc() crashes).
Fixed the video corruption on the Apogee logo, and the story screens before each episode of the registered version.
Version 0.5
Sound effects are now fully supported.
Music is now supported, with caveats. ROTTDS cannot (currently) play the game's music natively; however you can extract the music files from the game, convert them to ADPCM on your PC, and place the resulting files in your /rott/ directory, and ROTTDS will play them. I'm providing a music package containing the shareware music in ADPCM format. See the README.NDS file for more info.
Version 0.4
The registered version is now supported. You must supply your own DARKWAR.WAD, DARKWAR.RTL, and DARKWAR.RTC files.
Customize Keyboard screen now displays names of DS controls, for easier remapping.
Note: Made a minor change to the default control mapping; delete your CONFIG.ROT file and the game will auto-generate a new one.
Version 0.3
Touchscreen handling fixed. There's now a "Mouse-Look Mode" (on the Customize Controls menu) that you might be interested in.
Note: this release involves a change to SDL, so if you're building from source you'll need to re-download my SDL sources.
Version 0.2
Saving and Loading of games now works.
COMM-Bat games (in single player) now work.
External links