PspWeather PSP
From GameBrew
pspWeather
General
Author
mcdongle
Last Updated
2007/04/07
Type
Other
Version
2.0b
License
Mixed
Links
Download
Website
PspWeather is a simple network software to view the local weather conditions on your PSP, developed by McDongle.
User guide
Configuration
Edit /PSP/GAME/PSPWEATHER/config.xml with any text editor and place your location code.
Location code
You can search for your location ID at https://weather.codes.
Type your location there and it will display location ID, choose the one you need.
For instance Rome Italy would be ITXX0067, so use ITXX0067 in the config file.
Additional notes
Only up to 10 wireless access points will be shown. You may want to clean out your data directory every so often.
Please do not exit, power off or remove Memory Stick while Memory Stick light is on.
Screenshots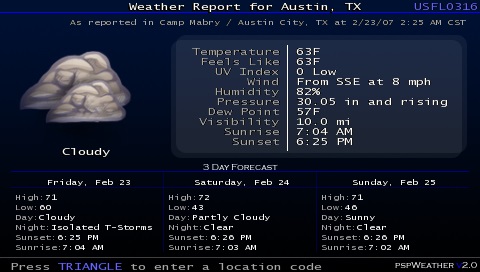 Compatibility
For Firmware 1.5 only.
Changelog
v2.0b 2007/04/07
Added standard and metric units when using the pspWeather "keyboard".
Fixed an issue where pspWeather did not run correctly unless it was located in /PSP/GAME/.
v2.0b 2007/02/23
Added semi-theme support (PLEASE do not change the font file).
Addedan interface to get weather without reading location codes from the configuration file.
Added 3 Day forecasts.
Added DHCP support.
Added new config file in XML format.
Many fixed.
v1.05 2005/07/10
Released source code.
Added other countries to get their weather too. Go to http://xoap.weather.com/search/search?where= and type your location there. And it will display location id's, choose which one you need:
eg "http://xoap.weather.com/search/search?where=Rome Italy".

<loc id="ITXX0067" type="1">Rome, Italy</loc>.
So use ITXX0067 in the config file.

Added unit measurement (s for standard/m for Metric).
Added other weather icons, These were edited icons from a pack called Konfabulator.
Added up to 9 location ID's can be now stored in the config file, please make sure the totalIds tag is set accordingly to how many you have.
Changed fonts and colors around so it's more representable.
Fixed description under weather icon, was displaying moon phase.
Refreshing is fixed.
v1.0 2005/07/07
External links