Ps2txt GBA
From GameBrew
ps2txt
General
Author
moonlight
Last Updated
2005/01/16
Type
Utilities
Version
0.14
License
Mixed
Links
Download
Website
ps2txt is a TextViewerPlugin that runs on PogoShell.
Note: Only works with PogoShell 2.0b3/b4.
Features
Read large files (up to ROM size limit 32MBit-PogoShell).
Smooth line scroll/page scroll.
Auto key repeat (adjustable spped).
Real-time decompression of compressed fonts.
Variable font size, variable font face.
Font change during startup.
Anti-aliased font.
Change line spacing.
Real time save states for each file.
4 bookmarks per file. Preview display when loading/saving/deleting.
Return to PogoShell2.
Windows fonts can be used with GBA.
Key click sound ON/OFF switching by ADPCM.
Not compatible with RTC.
TAB stop, TAB font setting.
BG background image.
Action preview.
Installation
The attached sample plug-in contains only JIS level-1 kanji to reduce the size. You can add your own font that suit your needs.
To install, copy txt.bin under PogoShell2\root\.shell\plugins\.
Open PogoShell2\root\.shell\pogo.cfg with notepad or similar tools.
Locate txt 4 TXT, modify it and add a new line, like so:
#txt 4 TXT
txt 4 txt.bin 2

You can restore it by deleting "#" and txt 4 txt.bin 2.
User guide
Menu options:
Save/Load/Delete files.
Switch fonts.
Overall sound effect (on/off).
2x oversampling.
Sound volume.
Indiviual sound effects (on/off).
Debug window.
Controls
Text viewer:
Select on boot - Help
A/B or Up/Down - Next/Previous line
Left/Right - Next/Previous page
L+R - Back to PogoShell (can be changed tp A+B in the options menu)
Start - Menu
Menu:
L/R - Next/Previous page
Screenshots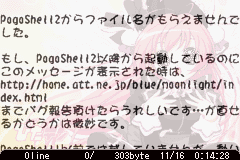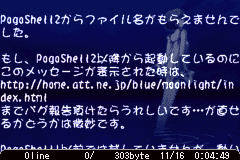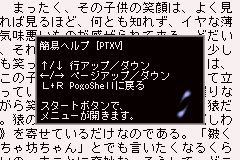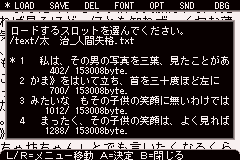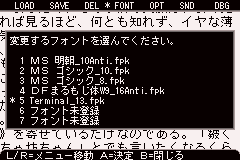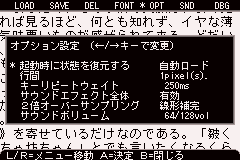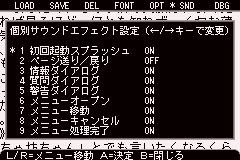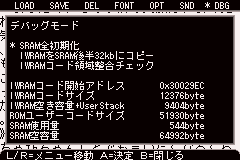 Changelog
Version 0.14 2005/01/16
Enabled to select PogoShell return code from automatic recognition/Visoly(F2A) system/XROM system.
Added Type2 (right hand mode) to key customization.
Key customization setting status is displayed in Help.
Intergrated high speed version that seems to be stable now.
Version 0.13 2004/11/23
Change appearance. Made it possible to customize the color of all parts. Comes with a color change tool.
BG background image can now be added. A BG background image embedding tool is included. BG enabled/disabled can be selected on GBA.
Speeding up that relied on intuition was speeded up while properly measuring the speed.
txt.gba+txt.fpk=txt.bin is now just txt.bin.
Fixed an issue where fonts could not be combined in WinME.
Added [L+R] and [A+B] keys to return to PogoShell.
Intended to save battery by stopping DirectSound when the sound stops.
Intended to save battery by stopping the CPU during idle time when nothing is being processed.
TAB character display and TAB stop digit can be set.
Fixed a bug that the volume is different between the real device and the emulator.
Comes with a high-speed version for testing purposes.
Version 0.11 2004/08/30
You can now return to PogoShell with X-ROM (Thanks keiich).
Version 0.10 2004/08/27
Release for the time being.
Version 0.00 2004/08/20
External links