NDS KoiKoi
From GameBrew - a wiki dedicated to Video Game Homebrew.
NDS KOIKOI
General
Author(s)
MeRAMEN
Type
Card Strategy
Version
20100830
Licence
Mixed
Links
Download
Website

NDS KoiKoi is a Hanafuda Koi-Koi card game for the NDS, where you play Koi-Koi style against the CPU.
Installation
Download and extract file.
DLDI patch it and copy it to the root directory of the card.
Save file NDS_KOIKOI.nv will be created at the root of the SD card. Once created you can reloacte it to any directory.
User guide
In Koi-Koi player throw a card on the same suit card to capture them. The winner is the one who makes the special combination of several cards which is called a Yaku. The combination is according to the socre of role made by Hanafuda Koi-Koi.
Unlike the official rules however, it does not end in the 12th round. The game into endless mode, where you can compete for a high score.
NDS KoiKoi has a wifi ranking table built into it, which allows you to upload your best score to the net ranking server and at the same time download the rankings of the top 20 people. You will need have your WiFi setting configured in advance with a commercial game.
Controls
D-Pad - Move cursor
A - Confirm
B - Cancel
X - Menu (pause in game, BGM slection, etc)
Select - Switch rankings display
Screenshots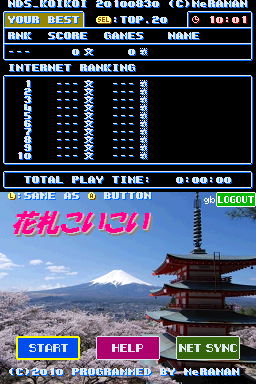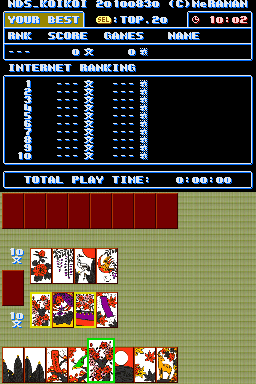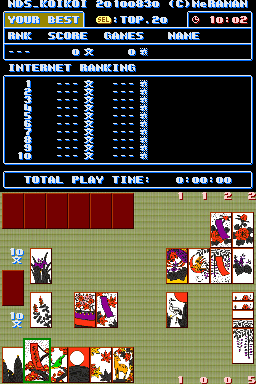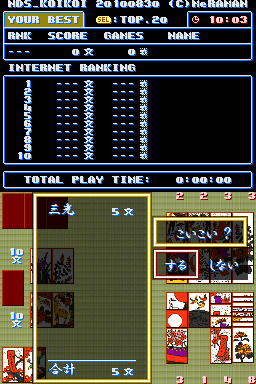 Changelog
2010/08/30
A few improvements.
No changes to the content of the main game.
Slightly larger display of the selected bills.
A button can be used to add functionality as well as the L button.

The latter is a key operation only in the game. You can substitute the A button on the L button. This allows you to progress the game with one hand.
2010/07/18
A few bug fixes.
Non-initialized variable was fixed.
Modify the palette of animations when the user selection screen.
Default BGM is set as No.5.
2010/07/17
Credits
BGM/SE uses the free material in the free sound material Music Room.
External links