Munky Blocks DS
From GameBrew - a wiki dedicated to Video Game Homebrew.
Munky Blocks DS
General
Author(s)
Jayenkai
Type
Puzzle
Version
24November2009
Licence
Mixed
Links
Download
Website

Munky Blocks DS is a remake/mashup of two PC editions. Level editor is included in this version.
Installation
DOwnload, extract file and DIDL patch it.
Copy the game (.nds, probably) onto your cart, and place the MUNKYBLK folder in the root.
Cart:/022-MunkyBlocks.nds
Cart:/MUNKYBLK/Jayenkai - Advancements.lev


If the level pack "Jayenkai - Advancements" isn't sat at the bottom of the menu, something went wrong, and either the paths aren't right/ your DLDI isn't working.
Gameplay
Munky Blocks DS is a simple game with a Munky in it. What could possibly go wrong!?
Get all of Munky's Blocks in order!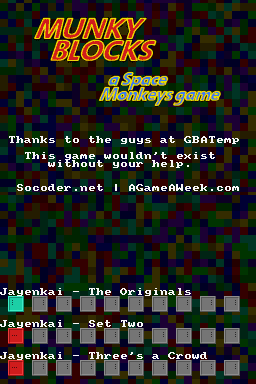 Objectives
Line up all the blocks into collections of colours. 3-or-more will vanish.
Get rid of all the blocks to complete a level.
Controls
D-Pad - move A - eat Hold A and left - eat the block to the left, etc.. You can also spit it out using the same button combo
If you get stuck, hit Redo (top right, or R Trigger) to retry a level. If you're completely stuck, Quit (top left, or L Trigger) will take you back to the menu.