LoneWolfDS - Flight From The Dark
From GameBrew
LoneWolfDS - Flight From The Dark
General
Author
Frédéric Calendini (Michoko)
Last Updated
2010/07/05
Type
Adventure
Version
1.51
License
Mixed
Links
Download
Website
LoneWolf DS is a gamebook for the NDS, a kind of interactive fiction/choose your own adventure RPG. They were novels which had a nice success during the 80's, and which were allowing the readers to choose their own path by jumping from one numbered section to another, with other nice ideas which were the precursors of what we find today in role playing video games.F. Calendini used the work from the Aon Project to adapt a Lone Wolf gamebook to the DS.
The philosophy behind the port of the Lone Wolf books to the DS is to let the console handle all the rules related to combats, stats and so on, so the player can be really immersed in the story and doesn't need to bother with the gameplay elements.
This adventure game is a conversion of the famous Lone Wolf gamebooks written by Joe Dever in the 80's (Book I from the Kai Series).
LoneWolfDS - Flight From The Dark was ranked 1st in the NEO Spring Coding Compo 2008.
Features
Fun and interactive.
Inventory.
Enemies fights.
Random dice results.
Installation
Download and extract file.
DLDI patch it if needed (if your card does not have auto-patching) and copy it to the root directory of the card.
User guide
Gameplay
At the Kai Monastery is a young initiate, given the name Silent Wolf. On the feastday of Fehmarn, when all the Kai Lords gather at the monastery, Silent Wolf is sent to cut wood from the surrounding forest as a punishment for his inattention in class.
While he is gone, a surprise attack is launched from the Darklands at several places across Sommerlund. The Monastery is assaulted and the gathered Kai Lords massacred. Returning from the woods to find himself the only survivor, Silent Wolf renames himself Lone Wolf and sets out for the capital to inform the King of the loss of the Kai.
Your goal is to go through the book by choosing your path and actions interactively. You will have to fight enemies, collect items and gold and make your choices wisely to survive this epic journey!
Continue from previous book
You can continue your adventure from the previous book, with all your stats/items and disciplines. To do so, you first have to save a game at the very last section of the previous volume, then launch the current book and select NEW GAME. You should be offered to continue from a previous saved game.
Kai series
The complete Kai series (Book 1 to 5) has been ported to the NDS, where you follow Lone Wolf as he climbs the steps to become a Kai Lord of the Magnakai level:
You can learn more about the books and the Magnamund universe here.
Controls
Operate with Stylus.
Screenshots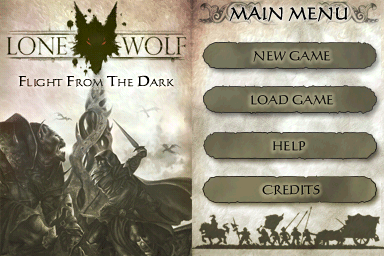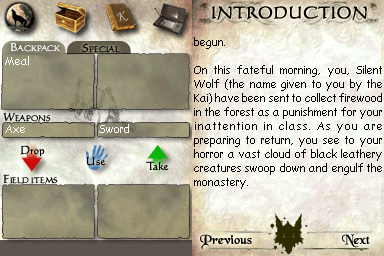 Media
LoneWolfDS Demo (Frederic French)

LoneWolfNDS (thebawp)

Compatibility
Tested and works on the following linkers:
CycloDS Evolution
R4
R6 Gold
M3 Real (works with M3 manager 3.6. If it doesn't work, try launching it via DS Organize)
M3-Lite/M3-miniSD/M3-SD
M3 Perfect
Supercard DS One
Datel Games N Music
G6 Real
Max Media Player
DSTT
AceKard 2i + AKAIO
EX4i

Changelog
version 1.51 2010/07/05
Fixed a very nasty bug that didn't save some important events in the save file (ouch).
Fixed a bug when the Sommerswerd was not equipped as a weapon, but was still giving full CS bonus (thanks Aia).
Fixed a bug when the Sommerswerd was not equipped and was not detected as being in the inventory.
version 1.5 2010/07/01
Recompiled with a more stable SDK and the latest version of the game engine.
version 1.41 2008/04/28
Hotfix which fixes a bug when saving a game without having the weaponskill discipline.
version 1.4 2008/04/27
Fixed a memory leak during random rolls, making the numbers disappear after many rolls.
Fixed some vicious inventory bugs.
Fixed many sections.
Updated the events handling engine so future books will be easier to port.
Spanish version (thanks A LOT to NewKuato and El Clérigo Urbatain).
version 1.3 2008/04/08
Fixed section #197, where a sword and some gold coins were not available (thanks Steven).
version 1.2 2008/04/06
Added a left-handed mode finally, recoded many things to support this new mode.
Now you throw the dice manually during combats, to make them more enjoyable and add a bit of suspense.
Fixed a screen brightness bug occuring sometimes after flashing the screen.
Fixed a combat skill bonus bug when you had taken "MindBlast" discipline.
Added a "Close" button to the map. Also you can now display the map by pressing START/SELECT.
Other small fixes and improvements.
version 1.1 2008/03/22
LoneWolfDS should now work properly on M3 Real and G6 linkers (many thanks to all the testers).
Fixed a small issue on section #33 were gold was not increased properly.
version 1.0 2008/03/09
Fixed a nasty bug that was not flushing inventory correctly when you were restarting a new game, causing various strange behaviours when trying to pick items (thanks Raion).
Fixed a bug causing Gold to increase regularly, and limited the number of crowns to 50.
Fixed a loading saved game bug which was not restoring all events properly (thanks Kirsty).
Fixed several sections events
Smoothed and improved map scrolling using the stylus.
Fixed a bug where "Previous/Next" buttons were staying in black & white after dying.
You can't no longer pick/unpick the "Weaponskill" discipline and roll a random number each time.
You can't drop and lose the map now.
Various other small fixes and improvements.
RC6 2008/03/04
First public release candidate.
Credits
The Project Aon team, Mollusk, fincs, Noda and ThomasS, NewKuato and Urbatain El Clérigo, and everyone else who helped on this project.
External links